ScotRail leases more trains for busiest routes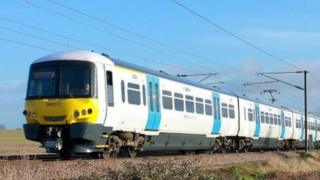 ScotRail is to run 10 more trains each day between Glasgow and Edinburgh.
The rail operator had to reduce its service through the central belt earlier this year after the lease on some carriages came to an end.
ScotRail said it had signed a deal to hire 10 electric trains, which should allow them to carry at least 17,000 additional passengers each day.
The trains will operate on the main line between Glasgow and Edinburgh, via Falkirk High.
In February, ScotRail had to cut the number of carriages on some of its trains through the central belt.
The disruption was caused by some class 170 diesel trains reaching the end of their lease period while the new electric trains have been hit by delays.
The diesels were meant to have been replaced last year by the new class 385 electric trains, made by Japanese manufacturer Hitachi.
ScotRail has ordered 46 three-carriage and 24 four-carriage sets of the 385 trains to run between Glasgow and Edinburgh, as well as on suburban routes south of Glasgow and to Dunblane, Stirling and Alloa.
They form part of the Edinburgh-Glasgow Improvement Programme, which has been introducing electrification to the line.
The first of the Hitachi trains was due to have entered service in September but manufacturing hitches and delays to electrification of the line meant this date was not met.
The temporary lease deal for the electric trains which will fill the stop-gap has been agreed between ScotRail and Eversholt Rail.
More seats
The first of Eversholt's class 365 electric trains will be introduced to the network in the next few weeks.
The new Hitachi trains are expected to enter service "in the coming months", ScotRail said.
Alex Hynes, ScotRail Alliance managing director, said: "I am delighted that we have secured an extra 10 electric trains to boost the number of seats available to our customers by 17,200 a day. This is great news for our customers travelling between Edinburgh and Glasgow.
"Securing these extra trains has been made possible thanks to a lot of our people across the ScotRail Alliance working flat out in recent weeks.
"The coming months will see a transformation in Scotland's railway, and we can't wait for customers to feel the benefits. It's all part of our plan to build the best railway Scotland has ever had."
Transport Minister Humza Yousaf said the extra seats would help support major events in Scotland this summer.
He added: "The recent arrival of the first four class 365 trains in Scotland is welcome news, enabling staff training to progress more quickly as well as providing more work at Springburn to prepare the fleet.
"We thank passengers for their patience on those routes particularly impacted by capacity issues and assure them these class 365 trains will help alleviate this issue."