Miners' strike policing in Scotland to be reviewed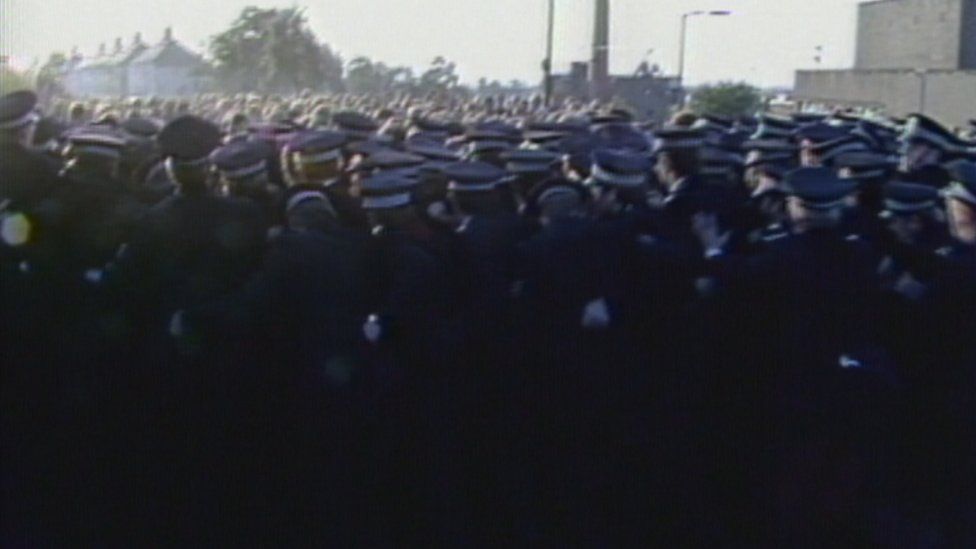 An independent review of the impact of policing on communities during the miners' strike has been set up by the Scottish government.
Many Scottish communities were caught up in the nationwide industrial action in 1984 and 1985.
Justice Secretary Michael Matheson told MSPs that the probe was not anti-police but that it was "high time" that what communities endured was understood.
John Scott QC will lead the review, and will report back to ministers in 2019.
He will be assisted by an advisory panel including former MP and MSP Dennis Canavan, former assistant chief constable Kate Thomson and Prof Jim Murdoch of Glasgow University.
It is estimated that 500 Scottish miners were arrested during the year-long strike, with Scotland seeing 30% of the arrests during the disputes despite only having 10% of the UK's mining workforce.
Bob Young, a miner at Comrie Colliery in Fife says many pitmen who had no criminal records before the strike, and nothing afterwards, were arrested and taken to court during it. He was one of them.
"I was arrested often at picket lines, thrown in the back of a police van, held until the picket was finished and taken somewhere out in the country and dropped off and told to go home."
The UK government ruled out an inquiry into the "Battle of Orgreave", clashes at a coking plant in South Yorkshire in 1984 - something Mr Matheson told MSPs was the "wrong decision" and which had convinced him that a "do nothing approach" was not the way forward.
He said the review would involve a study of files held at the National Records of Scotland and the National Archives in London, as well as gathering evidence from those directly involved.
He said: "Through this independent review, Scotland will certainly lead the way in ensuring that the experiences of those affected by the dispute in the 1980s are properly recognised.
"Some of our communities have been blighted by the shadow of that time for too long.
"We have good relations with the police and no wish to pursue a vendetta but it is high time that what mining communities endured during the strike is properly understood."
Mr Matheson met representatives of the National Union of Mineworkers before announcing the review, and a number of former miners were in the Holyrood chamber to hear his statement, including Sir David Hamilton, a former miner's leader who went on to become Labour MP for Midlothian.
He said: "They'll be able to look at what's happened, they'll be able to see the mistakes that were made.
"They'll be able to see that it was a state versus a trade union.
"And I think if they come to a conclusion that proves beyond doubt, something that we've always known as miners, that the general public have never known, and young people don't understand, that the power of the state was used in a way that should never have been used.
"It's not about me. It's about all those men who've passed, who were convicted and never were arrested before that strike and have never been arrested since the strike. And a lot of them have now passed away.
"It's about recognising they were criminalised during that strike and they should never have been criminalised."
Opposition MSPs welcomed the review.
Conservative justice spokesman Liam Kerr said it was important to learn the lessons of the past, but also called for reassurance for police officers.
He said: "Where there are questions and where issues remain unresolved in the mind of the public, and those involved in and affected by the dispute, it is always important that we seek to understand and look to learn the lessons of the past."
Labour's Neil Findlay - who has been campaigning for an inquiry - said the move was "a huge breakthrough in the fight for justice"
He added: "Scottish miners suffered disproportionately from the impact. Many of these workers lost not just their jobs and income, but their relationships, their homes and many their mental and physical health.
"Some were blacklisted and others went to their graves the victims of a miscarriage of justice with a criminal conviction against their name when the reality was they had done nothing wrong."
Green MSP John Finnie said the review "really is very good news", while Lib Dem Liam McArthur said John Scott's chairing would reassure mining communities and police, saying the QC would be "very thorough but also even handed".