'Refusing my guide dog is not just illegal, it's wrong'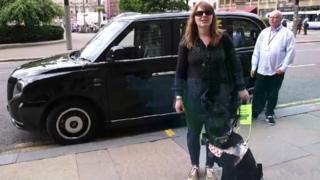 Sam Little thinks she puts up with a lot as a guide dog owner.
Not only do people tell her she "doesn't look blind" enough to need one but she is faced with constant ignorance from people who think they can turn away her dog, Ziggy.
Sam is protected by the law but still she has been refused access to taxis and was even asked to leave a supermarket because of her dog.
"It's not just against the law," she says. "It's wrong".
Talking to BBC Radio Scotland's John Beattie, she said: "The first time it happened, I'd only had Ziggy for six months.
"He is my first guide dog so it was a very new experience for me."
Sam, 29, lives in Aberdeenshire but works in Glasgow three days a week.
She was coming off a train in Aberdeenshire in terrible weather.
It was pouring with rain, it was dark and icy. She decided to take a taxi to her destination.
She said: "I have a very small central field of vision but what I can see out of that is pretty good.
"I knocked on the passenger door of the taxi and I gestured below to say I've got a guide dog."
What happened next shocked her.
"The guy in the taxi just looked over and shook his head," she said.
"I remember saying, 'no he is a guide dog', as if he hadn't understood what I had said."
But the driver wouldn't let them in.
Sam said: "The weather was horrendous, I felt rejected, Ziggy was soaking and I just wanted to get out of there.
"Luckily there was another taxi next to me, the driver got out and helped me get in, we got dry and he drove me home."
It was not until she got home that she realised what the taxi did was illegal. She also knew she should have taken his details and reported him but all that went out of her head.
Sam has made a film about her experiences for The Social.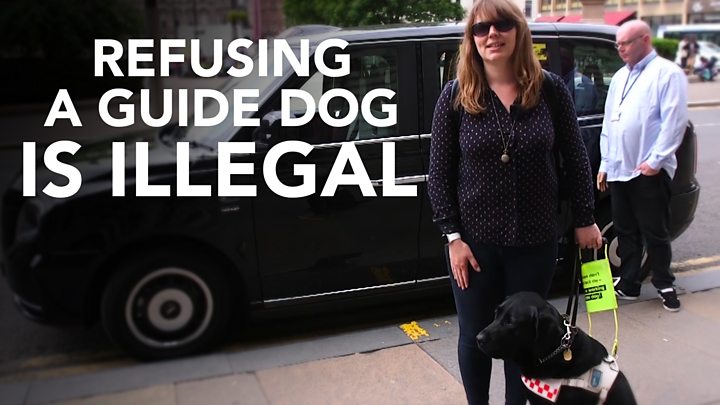 In her video she introduces Ziggy and shares her experiences of trying to get a taxi with a guide dog.
The 2010 Equalities Act legislates for this kind of discrimination.
People with disabilities have the same right to services supplied by shops, banks, hotels, libraries, pubs, taxis and restaurants as everyone else.
The act states clearly that it is also illegal for assistance dog owners to be refused access to a taxi or minicab with their assistance dog.
There is an exemption for drivers allergic to dogs. But they must have an official exemption certificate.
Pamela Munro from Guide Dogs UK said: "If you have an exemption certificate you can say to the guide dog owner 'I'm really sorry, I have an exemption certificate. I am allergic to dogs, however please go to the taxi behind me'.
"If you don't have an exemption certificate then you must take the dog."
However, the charity has found that three out of four assistance dog owners have been refused access to a taxi and 42% of them reported that even after discussion with the driver, they were still refused entry.
Guide Dogs UK works with local authorities and taxi firms when issues arise and supports guide dog owners.
Being turned away has a real impact on the confidence of someone who uses a guide dog, they said.
Sam said it could put people off going out and being more independent.
She said: "I feel really angry and really vulnerable at the same time.
"There's only so much I can do, I've got a guide dog, I've got a rucksack on, I'm on my way somewhere, so I can't stop and take a photo of the licence number. It is really difficult."
'You have to leave'
It is not just taxis that disappoint.
Sam has encountered issues in shops too.
"A few weeks ago I was refused entry to a local supermarket.
"I entered the shop, grabbed a basket and was looking at bananas or something when the security man came up to me and said I'm going to have to ask you to leave because dogs aren't allowed.
"I told him Ziggy is a working guide dog - I thought maybe he hadn't seen the harness.
"Despite me repeatedly telling him that it was illegal, and that he couldn't do this, he wouldn't listen.
"I asked to speak to the manager. He came over to me and asked if he is a working guide dog, then he said it should be fine."
But Sam thinks "should be fine" is not good enough.
Guide Dogs UK said their clients are also turned away from restaurants regularly. Pamela Munro said it was about lack of awareness and training for staff.
She said: "In most cases it is lack of understanding of what a guide dog is and how it will behave.
"Assistance dogs are covered by the food agency so they can go to restaurants and food premises etc without any problems at all."
Sam just wants people to understand what the dogs mean to their owners.
She said: "Having a guide dog is a way of people with visual impairments leading an independent life.
"Refusing a taxi is a violation of that and I want to go about my life confident I can get in a taxi and not be refused and end up feeling horrible."