Scots urged to drink tap water from reusable bottles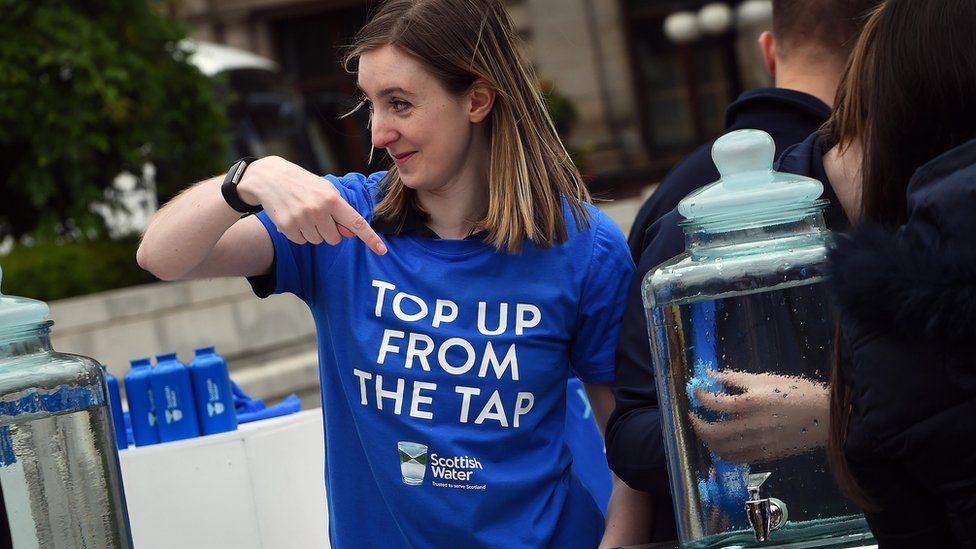 A campaign has been launched to encourage people to fill up reusable bottles with tap water.
Businesses are also being asked to make it easier for customers to top up refillable containers at their premises.
The 'Your Water, Your life' campaign aims to cut down on single-use plastic bottles and to get more Scots drinking tap water when away from the house.
Scottish Water says it wants to change the way tap water is consumed.
The utility is backing its message with a TV and radio campaign.
Scottish Water chief executive Douglas Millican said: "Today, we're calling on our five million customers to help us create a positive shift in the way tap water is consumed in Scotland.
"The benefits of topping up with fresh, great tasting Scottish tap water are clear. It's good for the pocket, good for the environment and good for your health.
"By prompting Scotland's water drinkers to refill reusable bottles from the tap, our hope is that more and more people take advantage of the world-class drinking water they have at their fingertips, every day.
'Proactively offering tap water'
"We'll also be encouraging businesses to play their part, by proactively offering tap water in their premises, so the option of topping up becomes common place and makes refilling on the go easier."
Governments have pledged to clamp down on single-use plastic items such as straws and ear-buds.
Environment Secretary Roseanna Cunningham said: "This is a fantastic campaign which fits in with our work to reduce Scotland's dependence on single use plastic and is raising awareness of the health benefits of drinking more tap water, which is excellent in quality and value.
"We would encourage people to make the switch to reusable bottles if they can as it will help protect the environment and can save money. This campaign also builds on our commitments to tackle our throwaway culture as we are the first part of the UK to commit to a deposit return scheme."
Scottish Waters says the quality of its supplies are of a high standard.
Water samples from across Scotland are tested every two minutes to maintain quality, it says.
Related Internet Links
The BBC is not responsible for the content of external sites.