Postman issues warning to dog owners after traumatic attack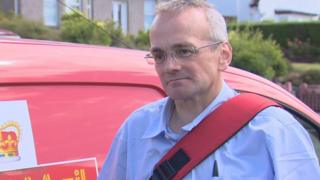 A postman who was mauled by a German Shepherd said the psychological impact of the attack will never leave him.
Alan Quinn required hospital treatment and physiotherapy after the attack in Paisley last year.
Royal Mail said he was among more than 200 postal workers injured by dogs in Scotland in 2017/18.
It has launched a new campaign to raise awareness of a problem, which escalates over the summer months.
Mr Quinn recalled the afternoon he was attacked at the isolated property.
He said: "I had been delivering there for over 10 years and the dog was never a problem but on this day, it got out and jumped on me at the external postbox and bit and tore into my arm and I was screaming for help covered in blood.
"The owner then took me to hospital.
"I never for a moment expected it."
'Very wary'
Mr Quinn, who was off work for three months, has changed his route but the memory of that afternoon is still fresh in his mind.
He added: "I am very wary of dogs now - more than before.
"Particularly when I can't see them but I can hear them barking.
"I'd just ask customers, please keep your dog away from the door, don't have your dog loose in the garden when we are all on our rounds."
The dog's owner was later prosecuted.
Royal Mail's Dog Awareness week runs from Monday until 30 June and aims to encourage responsible dog ownership.
Official figures show there were 2,275 dog attacks last year, including 211 in Scotland.
While the overall total fell by 8%, in some parts of the UK it increased significantly.
Owners are advised to keep dogs away from the letterbox and not to open the front door if their pet is not under close control
Dogs should also not be allowed to roam around the garden when the mail is likely to be delivered.
'Devastating effect'
The awareness week is supported by the Communications Workers Union (CWU) and a wide range of organisations and animal charities.
A special Dog Awareness Week postmark will be applied to all stamped items from Monday until Saturday.
Royal Mail Group global director Dr Shaun Davis said: "We know that dogs are not inherently dangerous.
"But even the most placid animal can be prone to attack if it feels it or its territory is being threatened.
"Dog attacks have a devastating effect on our people and on our customers and we hope we can make a further impact in these areas."