SNP MPs abstain in Heathrow third runway vote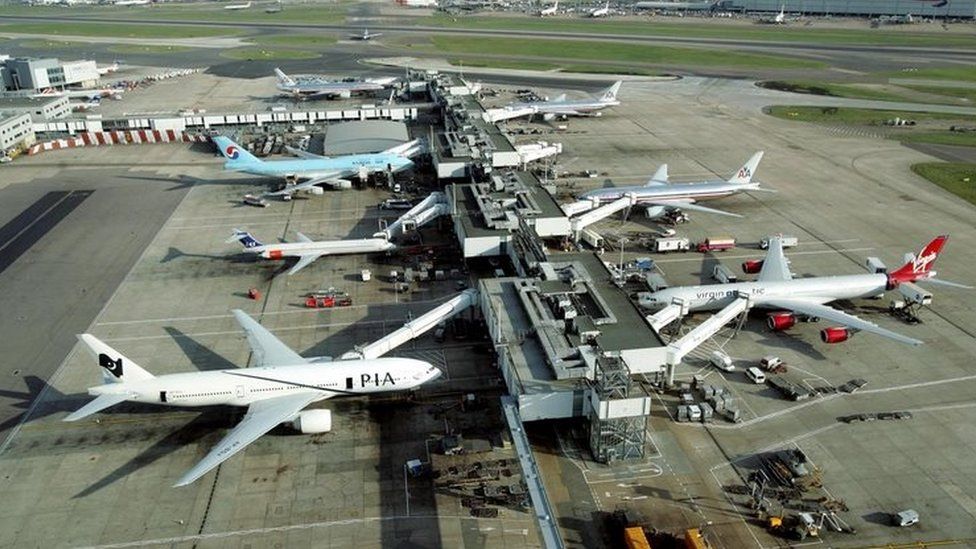 The SNP has withdrawn its support for a third runway at Heathrow airport, hours before a key Commons vote on the move.
But the UK government persuaded MPs to give the go-ahead for a third runway, which they say would boost the number of flights to and from Scotland.
The Commons supported the government's plan by 415 votes to 119, a majority of 296.
The Scottish government has been a longtime backer of the plans, and was still behind them on Sunday.
But SNP MPs abstained from voting because there were "no guarantees of the benefits".
It has been projected that the expansion of Heathrow would create at least 100 extra landing slots from Heathrow to Scottish airports each week.
The Scottish government had previously backed Heathrow's bid for a third runway, saying it would bring economic benefits for Scotland.
On Sunday, a Transport Scotland spokesman said the government "supports expansion at Heathrow airport" and "looks forward to Scotland seeing the benefits".
However, on the day of the vote, SNP MPs announced they would be abstaining because the UK government had "failed to make the case" for the move.
Transport spokesman Alan Brown said SNP members "could not vote for a third runway at Heathrow with no guarantees of the benefits".
The UK government faced opposition in its own ranks, with a number of Conservatives who represent seats in Heathrow's flight path rebelling.
Last week junior trade minister Greg Hands resigned from the government to oppose expansion of Heathrow Airport.
Mr Hands, who represents the Chelsea and Fulham constituency in London, said he had pledged to oppose the new runway at the 2017 election.
The highest profile opponent of Heathrow expansion in the cabinet is Boris Johnson, the foreign secretary, who once pledged to lie down in front of bulldozers to stop it happening.
But he was visiting Afghanistan and unable to attend the vote in the House of Commons.
Labour is also divided on the controversial issue, with members of the party's leadership, such as shadow chancellor John McDonnell, opposed to it, but high-profile trade union backers in favour.
The party's MPs were allowed to vote however they wanted on the issue.
Campaigners argue that a new runway will breach the UK's legal limits on air pollution and increase noise pollution with an extra 700 planes a day.