How should schools support transgender pupils?
By Jamie McIvor
BBC Scotland education correspondent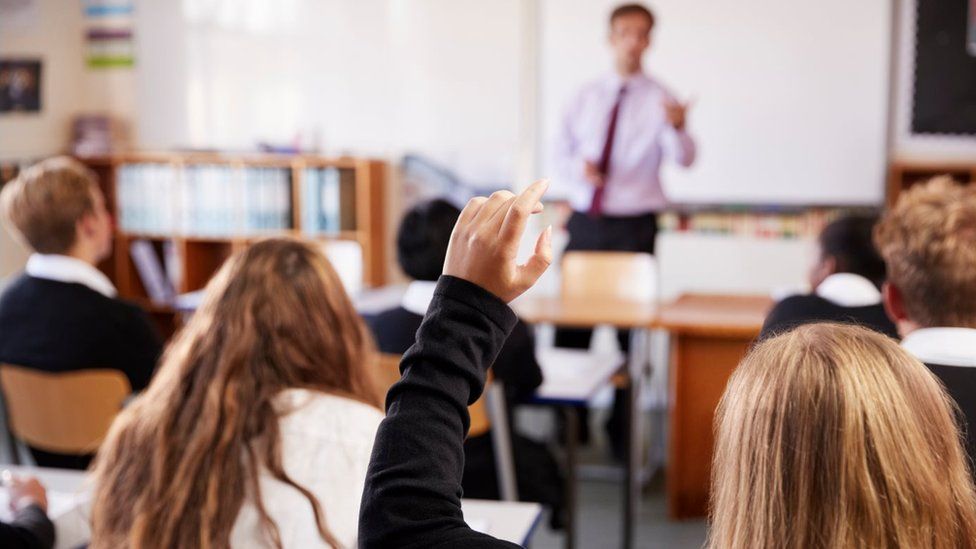 Modern schools are expected to be open and inclusive environments.
Many actively seek to celebrate diversity.
Homophobic bullying is openly discussed in many schools in a way which would have been unimaginable a generation ago.
It is not unusual now to see rainbow flags or stickers in schools promoting LGBT rights and equality.
Many gay men or lesbians in their 30s or 40s who either experienced homophobic bullying or hid their sexual orientation at school may almost pinch themselves when they see the efforts some schools now go to.
But the T in LGBT may sometimes be a more tricky issue to explore.
There are no official figures on the number of schoolchildren who identify as transgender.
'Increasing visibility and inclusion'
However the number is believed to be rising as transgender youngsters are becoming more confident about their identity.
Detailed guidance on how to support transgender pupils was drawn up last year by the charity LGBT Youth Scotland - the Scottish government is supportive.
The document is almost 60 pages long and covers a wide range of issues.
The guidance is not statutory but would be seen by supporters as an example of best practice.
It is up to individual councils to decide how they should be put to use or incorporated into their policies.
It is reasonable to suppose that the many schools and teachers will have little experience of supporting a transgender student or may have never knowingly had a transgender child.
In the introduction to the guidance, James Morton of the Scottish Trans Alliance wrote: "Over the last few years, increasing visibility and inclusion of trans people means that more people are feeling confident to come out as trans at younger ages instead of keeping their gender identities hidden for decades in fear.
"Whilst it is great that young trans people are increasingly being accepted and supported by their friends and families, we know that some schools have struggled to keep up with the fast-paced changes in this area."
The guidance deals with a huge range of issues including how to help children who want to come out, beating bullying and the use of gender neutral language.
It also touches on issues such as social dancing, school uniform and PE.
The points made in the guidance include:
Allowing transgender pupils to choose which toilets and changing rooms they use.
Teachers are advised not to disclose information to parents or carers without a child's permission.
Critics have expressed concern about how putting the guidance into practice could affect other pupils - for instance the effect on girls if someone born with a male body starts to use their changing rooms.
A number of councils which are supportive of the guidance say they have not carried out an assessment of its possible impact on other pupils.
The Christian Institute is preparing to launch a legal challenge amid concern about the practical impact of measures to support transgender pupils on others.
A feminist campaigner, Jess Stewart, is quoted in a newspaper as saying councils were "obviously wanting to do the right thing (to support transgender pupils) which is great. But they've done it without considering girls".
A spokesman for LGBT Youth Scotland said the guidance was developed in collaboration with a wide range of organisations and there was consultation with parents, teachers and young people.
He added: "The guidance represents what we believe to be best practice in supporting transgender young people and is not statutory."
Research by LGBT Scotland suggests that between 2012 and 2017, the proportion of young LGBT people who described school as a bad experience fell significantly from 64% to 46%.
Purely amongst transgender youngsters, the trend was similar but a noticeably higher proportion - 53% - still said school was a bad experience.
Some had experienced transphobic attitudes amongst staff.
One young person told the charity: "Teachers in my school were actively transphobic towards an FTM boy. He overheard two teachers talking about how 'freaks' like him shouldn't be 'allowed to mix with normal children'."
A Scottish government spokesman said: "The guidance is not a Scottish government publication, however we are supportive of this work, developed by LGBT Scotland, which we believe will reduce transgender discrimination.
"It is up to individual schools and local authorities to deliver relevant and engaging learning that best suits the needs of pupils."
Supporters of the guidance argue some critics may be distorting it or are simply prejudiced against transgender people.
However, others believe that while the guidance is well-intended, the possible effect of practical measures on other pupils needs to be considered properly.
Related Internet Links
The BBC is not responsible for the content of external sites.