Is the SNP planning more disruption at Westminster?
By Nick Eardley
BBC Scotland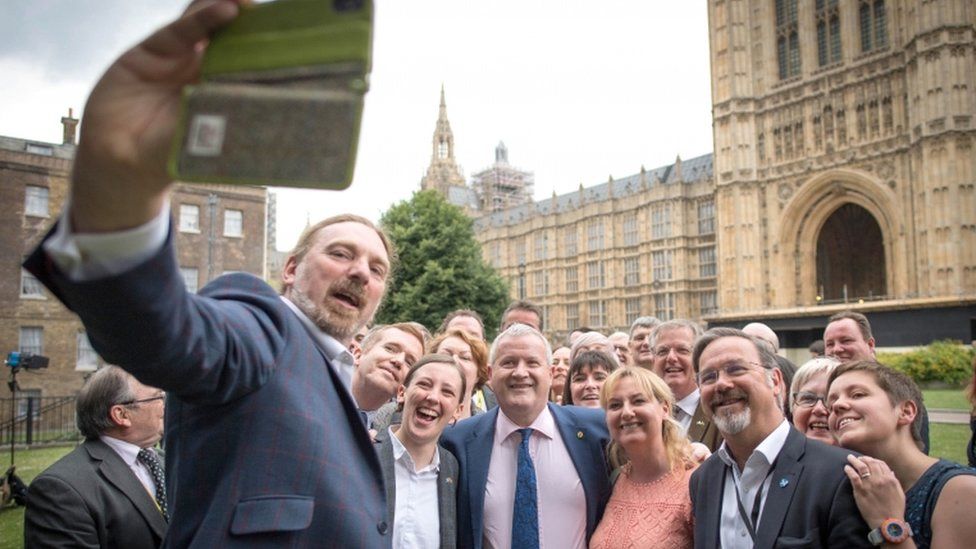 After MPs walked out of PMQs, senior SNP MPs say it won't be business as usual at Westminster going forward. So what can we expect?
"We don't have as many opportunities as Parnell did...but we're going to make it difficult for them."
So said one senior SNP figure to me last week, as the dust settled after their PMQs walkout.
Charles Stewart Parnell, the 19th Century Irish Home Rule activist and MP, was one of Westminster's great disruptors.
His "obstruction" campaign helped wreck business in the Commons and brought attention to the Irish Home Rule issue. He's commemorated with a bust in the Commons…just outside the SNP group office.
Some in the SNP now think they can take a leaf out of his book.
The party's MPs think Scottish voices are being sidelined in Brexit talks (something the UK government denies).
They were particularly furious when just 19 minutes was set aside for discussion of the devolved aspects of the Withdrawal Bill.
The standing orders in the Commons have changed since Parnell's day, as the quote from my source at the start alludes to.
His tactic of filibustering to stop legislation being passed is considerably less easy these days, with debates normally time-limited, for example.
The PMQs walkout was prompted after Ian Blackford tried to invoke Standing Order 163 (1), that the Commons should vote on sitting in private.
It seems that was deliberately timed to happen during PMQs.
The vote didn't take place, but it had been highly disruptive in the middle of the most high-profile event in the parliamentary week.
It's a safe bet that those in the SNP whips' office are dusting off their copies of Commons rules to look for more opportunities.
For now, they're remaining tight-lipped about what's next. In the words of one source, "it wouldn't be a surprise if we told you..."
Borrowing from Parnell, they could try and slow down the operation of Parliament by raising objections and calling for votes on business that's normally nodded through.
But Mr Blackford suggests the focus will be on big occasions and denies suggestions the party is digging the trenches for a Parliamentary "guerrilla war".
"We've got to do this in a way that's effective," he says.
"Parliament operates in a different way than it did in Parnell's day... it's about using the current constricts in a way that lets us demonstrate to the government that we are very angry at the way they've treated us."
The main focus is likely to be Brexit legislation - for example the Trade Bill and the Customs Bill, both of which should be back in the Commons soon.
Scottish government ministers have made it clear there's next to no chance they'll approve the bills, making them obvious targets.
But could the frustration plan extend to other bills too?
One MP told me there was more space for such an approach "in light of recent events".
Another told me it would have been too uncomfortable to vote with the Conservatives in the current climate.
Officially, the Westminster party says this was about a lack of guarantees from UK ministers on how benefits for Scotland would be delivered.
But UK government sources are convinced it's part of the frustration strategy - and it could backfire.
One minister told me: "First out of the blocks on non-cooperation and the SNP fall on their arse.
"They should have chosen an issue that didn't involve hypocrisy. It means all non-cooperation now will be judged less about standing up for Scotland and more about standing up for the SNP."
More broadly, Whitehall sources argue disruption is about independence.
They say the SNP is pursuing a "grievance agenda" designed to whip up resentment.
But a government source told me they think "people will see it for what it is".
The SNP deny that. But whichever side you agree with, it seems likely there will be more opportunities to discuss the merits of a disruptive approach soon.