Energy drinks sold to under-16s despite supermarket ban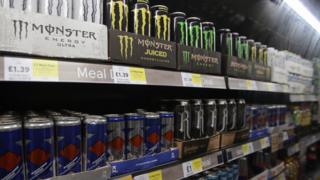 High-caffeine canned energy drinks are being sold in supermarkets despite a ban, a BBC investigation has found.
Sales of the drinks to children under 16 have been voluntarily banned by most major UK stores since March.
A teaching union has warned they are having a detrimental effect on both the health and the attention span of pupils
But the British Soft Drinks Association said there is no more caffeine in most energy drinks than in a small cup of coffee.
The new code is voluntary but when BBC Timeline took a 15-year-old girl round eight supermarkets, half allowed her to buy an energy drink.
Jane Peckham, national officer at the NASUWT teaching union, said: "The ever-increasing consumption of caffeine through energy drinks is a concern for long-term health.
"More and more studies are showing that can lead to diabetes, hyperactivity and other such conditions.
"I think it is something that we all need to pay attention to."
'Seven a day'
Anecdotally, Ms Peckham said she has heard of pupils consuming up to seven energy drinks a day.
And she said it is a problem in both primary and secondary schools.
The union is calling for a total ban on energy drinks in schools.
Ms Peckham added: "Research has shown that children who consume high levels of energy drinks are much more likely to develop future negative behaviours.
"It can lead to use of tobacco, binge drinking, possibly drug use and the energy drink is the starting point for that."
The limitations concern drinks which contain more than 150mg of caffeine per litre.
Timeline took Annie, 15, round eight supermarkets in Glasgow and Newton Mearns, East Renfrewshire, with mixed results.
In one Glasgow store, she went to a self-service check out where the canned drink was flagged as a restricted item.
Annie told the programme a staff member approved the sale without asking her for identification.
She repeated the process in another and when asked by a member of staff when her birthday was, Annie replied: "May".
He did not ask her age or for proof of her age before approving the sale.
In two stores in Newton Mearns, Annie was not asked for identification.
Timeline also spoke to teenagers who consume energy drinks.
Lennon, 14, is a keen footballer, runner and cyclist and enjoys both flat and fizzy energy drinks.
He said: "The sports drinks give you a boost but the other ones make you kind of hyper.
"Sometimes, if I'm angry, I take them because it calms me down."
The teenager admitted he has been refused energy drinks in supermarkets and has then asked an adult to buy them.
He added: "If energy drinks were banned I would feel frustrated, angry, upset and I would kind of lose my temper.
"I would just hope that when I am older I would get them again so for the rest of my life I could be happy."
Naveed Sattar, Professor of Metabolic Medicine at Glasgow University, said children should not be consuming energy drinks.
He added: "They were originally developed for optimal sport performance in high-functioning athletes, to replenish sugars and salts.
"The problem is that the word 'energy' is misleading - kids thinks that they'll be full of vitality after drinking it - but very few children are high-performing athletes so they don't need this additional sugar, salt, and caffeine."
Prof Sattar believes the biggest problem with the drinks is the high sugar content, which can lead to childhood obesity.
He said: "Energy drinks have the same or more sugar than fizzy drinks.
"This kind of refined sugar - as most research agrees - is not nutritious and nourishing, it causes damage to teeth, it causes obesity, which of course leads to heart disease, diabetes and cancer.
"Sports and energy drinks will have salt in them too, and high salt intake is a big factor in high blood pressure in children."
He said the picture concerning caffeine is less clear-cut.
Prof Sattar added: "Some research has suggested that high levels of it are physically bad for you, but many cases seem to be anecdotal.
"Either way, drinking too much energy drink will certainly cause agitation in kids, and impact their ability to sleep.
"Sleep deprivation has knock-on effects including weight gain, adverse diet, emotional distress etc."
Caffeine intake
The British Soft Drinks Association said it has no safety concerns.
A statement on its website on whether energy drinks can be consumed by children, said: "Whilst caffeine and energy drinks have been deemed safe by health authorities around the world, it is recommended that children consume less caffeine from all sources due to their lower body weight.
"The latest European Food Safety Authority (EFSA) report was regarding caffeine intake from all products and confirmed that caffeine intake from energy drinks is negligible in children and less than 11% in adolescents.
"EFSA also confirmed that the main contributors to daily caffeine intake in all age groups are tea, coffee, chocolate and other non-alcoholic beverages."