Science Centre roof 'melts' on hottest ever June day in Glasgow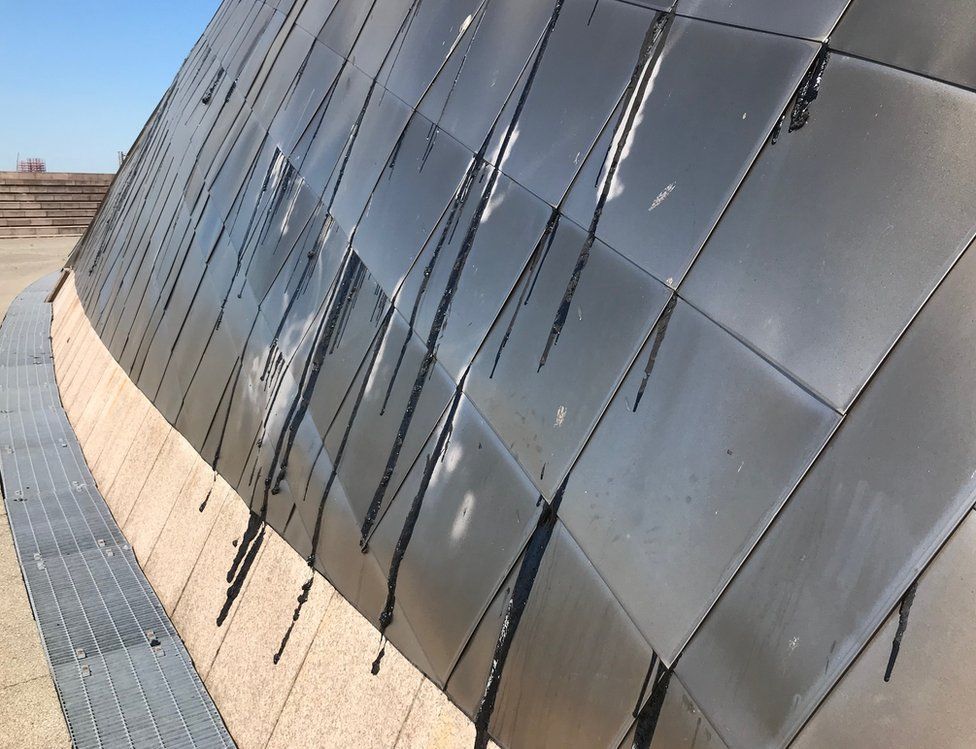 Scotland's largest city has enjoyed its hottest June day in history.
The temperature hit 31.9C in Glasgow, which weather forecasters round up to 32C. Thursday beat Wednesday's record as Scotland's hottest day in 23 years.
Temperatures triggered speed restrictions on rail routes in central Scotland and roads melted in Aberdeenshire, Moray and Fife.
The "weatherproof" membrane on Glasgow Science Centre's roof melted and dripped black "goo" down the building.
Thursday has become Scotland's warmest day of 2018 so far.
Forecasters thought the day's temperatures might get close to Scotland's record highest June temperature of 32.2 recorded in Ochertyre in Perth and Kinross in 1893.
While the heat did get close, the record still stands.
The high temperatures caused problems across the country.
Sharon Lyons from Glasgow Science Centre said: "As Scotland enjoys 'taps aff' weather, the weatherproof membrane from our roof is quite literally melting.
"The structural integrity of the roof is completely sound, but we are left with a bit of an unsightly black goo on the roof.
"When we return to typical Glasgow colder climes, we shall set about cleaning it."
Gritters were sent out after roads were reported to be melting in high temperatures.
Poor conditions were encountered on the A920 between Huntly and Dufftown and on the A916 Craigrothie to Cupar road.
On Wednesday, Aviemore reached 31C, making it the hottest single day in five years before the record was surpassed 24 hours later.
Train services between Glasgow Central and Lanark faced disruption for most of Thursday, the morning after major signalling problems caused issues on commuter routes.
ScotRail said this was because of speed restrictions due to high track temperatures.
Speed limits were also put in place between Bathgate and Edinburgh and were expected to last until about 19:00.
Services between Edinburgh and Glasgow Queen Street via Falkirk High were reduced to a half-hourly service and journeys between Edinburgh and Dunblane were cut to hourly.
Network Rail activated its "extreme weather action team" (EWAT).
David Dickson, Network Rail's infrastructure director for the ScotRail Alliance, said: "On very sunny days, rails in direct sunshine can be as much as 20 degrees centigrade above air temperature causing the steel to expand markedly and could, if not carefully monitored and action taken, buckle causing travel disruption.
"Our engineers and specialist extreme weather teams are monitoring track-side temperatures and vulnerable locations and will, if necessary, introduce temporary speed restrictions during the hottest part of the day to keep trains running, albeit more slowly than normal."
Some rails have been painted white to absorb less heat.
The BBC is not responsible for the content of external sites.
Other warnings have also been issued ahead of the increase in temperature.
Police have reminded people to be careful around water, particularly quarries.
They issued a warning on Twitter, saying: "Some quarry lakes may look inviting on a hot summer's day, but there are a number of hidden dangers! Deep water, submerged abandoned machinery & car wrecks, underwater recesses, hidden currents, dead animals, pollution."
The message added: "More dangers of quarry swimming are sheer faces, falling rocks, quick sand, and believe it or not hypothermia - despite the weather, water deeper than a few inches will be cold enough to cause cold shock!"
NHS Dumfries and Galloway sent out guidance on the risk the heat may cause to health.
Dr Nigel Calvert said: "It's important to remember though that, for some, temperatures like these, over more than a day or two can be really uncomfortable and pose a risk to health.
"People who may be at risk include the over 65s, young children and those with heart and lung conditions.
"It's important that we keep an eye on friends, family and neighbours who may be at risk, and chances are we'll all know someone who may fit into these at-risk groups."
It read: "Please DO NOT leave your pets in the car, even if only popping into the shops - cars heat up extremely quickly.
"The temperature in a parked car, even in the shade with partly open windows can rapidly reach a level high enough to seriously harm or kill your pet."