A bad end to a bad week for the Scottish government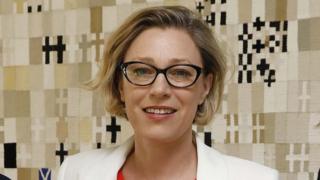 My interlocutor, a Nationalist MSP, paused before responding to my inquiring glance. Then pronounced. The verdict? "A bad end to a bad week."
The primary concern was the remarkable controversy over Gillian Martin, effectively sacked as a minister before formally taking office.
But in the mix of grievances could be discerned also the withdrawal of the education bill, the reshuffle more generally - and in particular the treatment of Keith Brown.
To recap briefly anent Ms Martin. She was named only yesterday as the first minister's choice to be the new Education Minister, outwith cabinet.
Then this morning The Times published a blog which Gillian Martin wrote in 2007 when she was a college lecturer. In one post, she satirised what she saw as an obsession with social inclusion, referring en passant to "hairy knuckled lipstick-wearing transitional transgender laydees".
Or, more precisely, the newspaper republished this post. It first emerged in the press two years ago when Ms Martin was the candidate for the Aberdeenshire East constituency.
Events developed swiftly this morning. Gillian Martin repeated and amplified the apology she issued two years ago, describing her language as "inappropriate and offensive". She added that the views expressed did not reflect her view when written, nor did they now.
Plainly, the suggestion was that this apology was sufficient to deal with what was regarded by some as an historic issue, of questionable contemporary relevance.
But matters did not rest there. Opposition parties made clear that they would seek to oppose Ms Martin's appointment when MSPs were invited to endorse the new ministerial team.
This proved parliament's power. In the past, ministerial appointments have occasionally been opposed - but usually to make a related political point or to allow Jackson Carlaw of the Conservatives to deliver his traditionally caustic comedy act.
But on this occasion the opposition parties were decidedly serious. They were questioning Ms Martin's fitness for office. And, of course, everyone started searching for other material.
Pause for thought
The Tories found more. A blog in which Ms Martin discussed the tipping habits of "American Jews" and "American Blacks", among others. She had apparently worked in a restaurant in New Orleans. The first minister's office learned of it at around 11:00 this morning.
Just before questions to the first minister at noon, the news broke that Ms Martin was no longer on the list of ministerial nominees.
After questions, Nicola Sturgeon confirmed this was the case, but indicated that she required a pause to consider how best to proceed. Any suggestion that she might reinstate Ms Martin appeared to vanish in her evidently shocked response to Jackson Carlaw when he read out extracts from the tipping blog.
Perhaps the most pointed question came earlier from Labour's Richard Leonard. He noted that the blog on social inclusion had been published by newspapers in 2016. Therefore, it was known about by the SNP and the First Minister.
That made it, said Mr Leonard, more than just an issue surrounding an individual MSP's fitness for ministerial office. It was now about the judgement of the first minister in seeking to appoint her to office.
In the chamber, Ms Sturgeon said that parliament should not rush to judgement. The reported comments from 2007, she argued, did not sit easily with the highly personable Gillian Martin who had become known to MSPs since her election in 2016.
She noted further that other elected politicians had questionable blog posts to their name. She advised those in glass houses to refrain from clutching stones.
Which might well be a question for the longer term. Today, though, this episode has removed the shine from what should have been an uplifting moment for the party and the government, refreshing the ministerial team.
As I write, an email arrives from Ms Martin, saying that she accepts her removal from the ministerial list - and apologising once more. It would appear that Ms Sturgeon's review of her options has been rapid.
Final thought. When Ms Martin wrote her blog in 2007, she headlined it with a warning.
It read: "This next post may get me sacked."
How, ultimately, prescient.