New electric trains approved after windscreens changed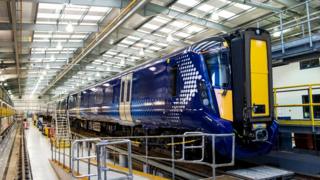 New electric trains for Scotland's central belt have been approved by rail regulators after their windscreens were replaced over safety concerns.
Train drivers' union Aslef had said the curved windscreen on the Class 385s were causing reflections of other signals at night.
New flat windscreens will now be fitted to all 70 of the trains.
The Office of Rail and Road (ORR) has confirmed the Hitachi trains are safe and licensed to carry passengers.
ScotRail has ordered 46 three-carriage and 24 four-carriage sets of the 385 trains to run between Glasgow and Edinburgh, as well as on suburban routes south of Glasgow and to Dunblane, Stirling and Alloa.
They form part of the Edinburgh-Glasgow Improvement Programme, which has been introducing electrification to the line.
The first of the Hitachi trains was due to have entered service in September last year but manufacturing hitches and delays to electrification of the line meant this date was not met.
Train operator ScotRail has been forced to lease extra train to make up for the delays.
The new electric trains could now begin to be rolled into service by the end of the summer.
Reduced journey times
The Japanese manufacturer and ScotRail have claimed the improved acceleration of the Class 385s will reduce journey times between Glasgow and Edinburgh to 42 minutes as well as increasing capacity.
The ORR approval also includes a formal acceptance of the new flat windscreens for the trains, which was accepted by Aslef in May.
The new windscreens are being fitted on trains that are already in Scotland in Springburn, with the remainder of the work carried out at Hitachi's County Durham factory.
Andy Radford, programme manager at Hitachi Rail, said: "Getting the green light for new trains is a massive milestone for the project.
"It has been achieved by all parties involved working collaboratively towards the same goal.
"It is now all systems go so that Scottish commuters can start enjoying the benefits of this modern fleet.
ScotRail project manager Gary Brown said: "The new trains have been declared safe and fit to run, which is great news for our customers.
"It means we're one step closer to delivering more seats, faster journeys and better services, not just in the Central Belt, but across Scotland."