Scots ministers plan crackdown on junk food promotion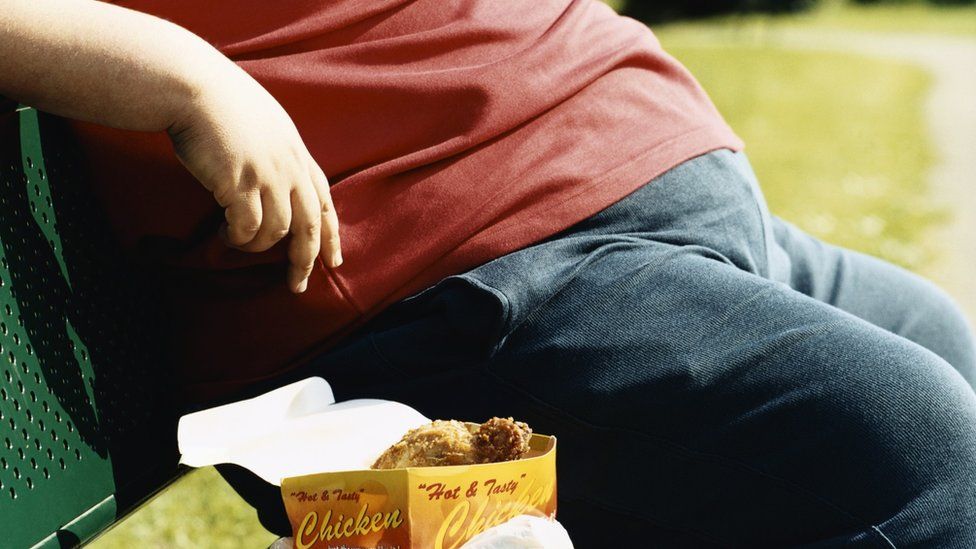 The Scottish government is planning a crackdown on junk food in a bid to turn around the country's "stubbornly unhealthy" diet.
Two thirds of adults in Scotland are overweight and 29% are obese, and this has not changed over the last 10 years.
They are to consult on detailed plans to restrict the promotion and marketing of foods high in salt, sugar and fat.
This would target confectionary, biscuits, crisps, cakes, pastries, sugary soft drinks and potentially ice creams, and include restrictions on multi-buy offers, meal deals, unlimited refill deals and where products can be displayed in shops.
Newly appointed public health minister Joe Fitzpatrick said "far too many people" were facing "serious risks to their health" which were "largely avoidable".
However, a food and drink industry representative group claimed the plans would "punish" small businesses with no evidence that it would actually make a difference to people's health.
The new government report states that "the Scottish diet remains stubbornly unhealthy", with the country "far from meeting our dietary goals" - something which has a "profound" impact on health and lifestyle.
Problems start early, with the report setting out "alarming" findings on the number of children consuming food and drinks high in fat or sugar - studies suggest 29% of children are at risk of being overweight, half of whom are at risk of obesity.
The annual cost to the NHS of treating health conditions linked to people being overweight and obese - including heart disease, cancer and type two diabetes - is estimated to range from £363m to £600m.
Meanwhile, economists say the total cost to the economy from lost productivity could be up to £4.6bn.
With the government setting a target of cutting childhood obesity by half by 2030, the new strategy paper sets out a range of plans to improve diet and health in young people.
This starts before babies are even conceived, with the government drawing up a "pre-conception action plan" on support services for pregnant women to "raise awareness of the importance of pregnancy planning and nutrition". This will also promote breastfeeding and give new parents advice about healthy eating in early years.
The government is also considering whether to use planning powers to put restrictions on food outlets in the areas around schools, to "encourage healthier choices and discourage unhealthy ones".
They also want the Advertising Standards Authority to "strengthen" rules to ban adverts for unhealthy food within an 800m radius of schools and any sites frequented predominantly by people under 16.
The strategy paper also sets out measures to restrict the promotion and marketing of foods which are high in fat, sugar and salt.
Detailed plans will be set out in the autumn of how this will work, but it is expected to include proposals to restrict multi-buy deals, "buy one get one free" offers and meal deals.
Ministers will seek views on whether to restrict the use of coupons and loyalty card points, and where products can be physically displayed in shops - such as around checkouts, front-of-store displays and on the ends of aisles.
Restrictions may also be placed on the sale of these products online, and where they can be advertised - with local authorities and transport companies being spoken to about adverts in bus shelters and stations and inside buses and trains.
Ministers are also to consult on whether to bring in rules for takeaways and restaurants to "encourage calorie reduction". This could include moves such as a requirement to list calorie information on all menus.
There are a number of areas where relevant powers lie with the UK government, such as broadcast advertising and tax. Scottish ministers have called on UK counterparts to ban junk food adverts before the 21:00 watershed - something which is being consulted on - and to devolve extra tax powers to Holyrood to "make healthy food cheaper and reduce the purchase of high fat, sugar and salt foods".
They also want the UK government to ban the use of celebrities and cartoon characters to promote unhealthy foods to children.
Mr Fitzpatrick, who was appointed public health minister last week, said: "Far too many people in Scotland face serious risks to their health linked to poor diet and unhealthy weight. This is unacceptable and it's largely avoidable.
"Scotland has a proud history of taking decisive action on public health and this is the next step in that journey, turning our attention to the nation's diet and weight."
Food Standards Scotland welcomed the "broad-ranging" strategy paper, in particular the measures around childhood obesity.
Chief executive Geoff Ogle said that if action was not taken "urgently", up to 40% of Scots could be obese by 2030. He added: "It's clear that no sole measure can tackle this deep-rooted health problem and we welcome actions from government, but we recognise that industry and the public also have a role to play."
But the Food and Drink Federation, which represents food and drink industry businesses, said it was "deeply disappointed" that ministers were pressing ahead with plans to restrict promotions and advertising.
Chief executive David Thomson said there was "no evidence of the effectiveness of these measures in reducing our waistlines", and said they would "punish" small businesses without making a real difference to health.
The Scottish Retail Consortium - which welcomed much of the plan - said it was "essential these measures are based on clear evidence they will reduce obesity, and are targeted in a specific manner to ensure consumers aren't unnecessarily penalised".
And Cancer Research UK said it was "vital" there were laws in place to restrict promotions which were "fuelling the nation's obesity crisis".
What do political parties say?
The Scottish Conservatives welcomed much of the plan, saying that "if executed correctly" it could "make a key difference in influencing better diets and more active lifestyles".
However, health spokesman Miles Briggs said actually getting the plans under way was key, adding: "This has been a government too keen on words, and too shy of action on a range of important topics."
Scottish Labour said the government had "failed to make inroads" to tackling the "obesity crisis", and said ministers must not "shy away from bold radical action" when restricting promotions.
MSP David Stewart said: "Working class families who are already struggling should also not be penalised - restrictions on food sales must be coupled with a strategy to make healthy options more affordable and efforts to tackle poverty that is the root cause of ill health."
The Scottish Greens said the plan was not bold enough, and was more focused on future consultations than in taking on big business.
Health spokeswoman Alison Johnstone said: "Any plan from government must tackle big business head-on, as profit-driven food manufacturers and retailers have too much influence over the choice - or lack of it - in our communities."
Scottish Lib Dem MSP Alex Cole-Hamilton said efforts to "curb our nation's love of fatty, salty and sugary foods" were "good news", but said there had been "no meaningful change" under previous government initiatives.
Related Internet Links
The BBC is not responsible for the content of external sites.