Protecting Mackintosh's domestic masterpiece by putting it in a box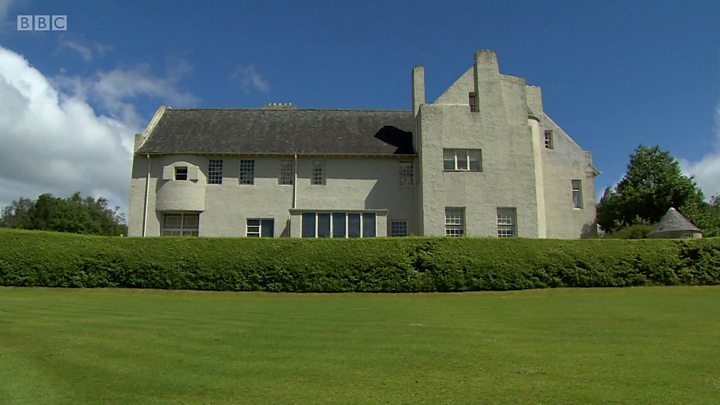 As work begins to dismantle sections of Glasgow School of Art after it was ravaged by fire earlier this month, it is not the only building designed by Charles Rennie Mackintosh that is at risk.
Hill House in Helensburgh is Mackintosh's "domestic masterpiece" and one of just a handful of residential buildings designed by the visionary architect.
But in recent years it has been plagued by damp and dry rot.
It has now been closed to visitors so that a rescue plan can be put in place.
It will see a steel cage erected around it for up to a decade while experts work to protect it from the elements.
The Hill House was designed as a family home with a difference.
It was built in 1904 for wealthy publisher Walter Blackie, one of a small number of patrons who sustained Mackintosh's career.
On the outside, the house has solid massed forms with little ornamentation but inside the rooms exude light and space.
The use of colour and decoration was all part of Mackintosh's uncompromising vision.
The "design dictator" was responsible for the look of everything from the light fittings to the chairs, from the curtains to door handles.
Mackintosh, who is now viewed as Scotland most visionary architect and designer, was at the height of his powers when he took on Hill House and built what came to be seen as a revolutionary home for the future.
However, the materials and techniques which were at the cutting edge of architectural design in 1900 have not withstood a century of Scottish weather.
The harsh, wet conditions have taken their toll, saturating the walls and causing damage inside the fabric of the building.
According to the National Trust For Scotland, which runs the house, it needs a chance to dry out so permanent repairs can take place.
Fritha Costain, business manager for the heritage charity said: "The building itself is definitely threatened but particularly the interiors.
"We've already lost interiors to dry rot, so we know water ingress is slowly dissolving the building."
The solution they have come up with is a steel box, part of a £4.5m project, which is to be built around Hill House to shield it from the worst of the rain.
The building will not disappear from view, but what visitors will see will be different once the structure is in place.
Architect Andrew Groarke says: "We are thinking of this project as a house for a house.
"One which, in counterpoint to Mackintosh's solid construction, is a diaphanous veil of chain mail.
"The new walls carry elevated walkways that enable visitors to see Mackintosh from a whole new perspective."
Experts say protecting Macintosh's remaining work is all the more important because of the recent fire which destroyed his most famous building, the Category A-listed Glasgow School of Art.
However, the National Trust for Scotland has ruled out installing a fire suppression system.
Ms Costain said a sprinkler system would run the risk of damaging delicate parts of the property's extensive furniture collection.
She said: "The way we would deal with a fire is much more proactive than reactive.
"There are no naked flames or flammable materials permitted on site, and we have a detailed emergency plan in place with the local fire service.
"The Glasgow School of Art is a very different state of use to us."
The trust said there was 24-hour surveillance on site and they were going through an extensive fire risk assessment with the local authority as part of the planning process.
Prof Pamela Robertson, from the University of Glasgow, says: "The Hill House is outstandingly important in Mackintosh's career.
"It's his domestic masterpiece.
"I think the fire at the Glasgow School of Art makes us realise how fragile this architectural legacy is and we must make every effort to ensure there is no more loss to diminish what we have for this generation and for future generations."