Teacher uses stammer to show children 'it's ok to be different'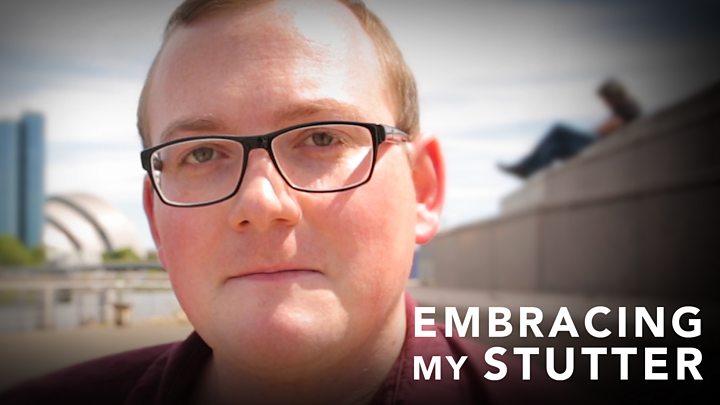 When Adam Black was growing up, his stutter held him back.
Rather than stumble over his words, he would not answer questions in class and he relied on his friends to talk on his behalf.
When he met new people, he would tell them his name was John because he could not say his own name fluently.
And he focussed on a career in palaeontology because dead dinosaurs "don't talk back".
But his life changed 12 years ago when he learned to accept his speech impediment and decided to embark on an unlikely career.
Now the father-of-two is a teacher who leads by example in showing his students that they should "embrace their quirks".
He told BBC The Social he had a "tricky" time growing up in Glasgow with a stammer.
"I felt quite confused about who I was and who I wanted to be, but the hardest thing was who my stutter made me be," he said.
"In the classroom when I knew the answers to things, I just wouldn't put myself forward, so again I was holding back. I wasn't being the person I really was."
'Quite alone'
However, he said the hardest part of growing up with a stutter was the feeling of isolation.
"I felt like I was the only one who stuttered and I didn't know anyone else who did so," he said. "You feel quite alone and you feel that there is nobody who really understands what you're going through."
But Adam began to change his attitude to his speech impediment when he took part in a course called The Maguire Programme.
He learned techniques to control his stutter, but it had the biggest impact on his mindset.
"They just tell you to embrace your stutter, to not be afraid of being someone who stutters," he said.
"And that was the biggest change for me, when I realised it was ok to be who I really was. It's fine for me to stutter, it's fine for me to perhaps stumble on words because it's the content of what I'm saying that is important, not the delivery of it."
With that new-found confidence, he turned his back on a career in palaeontology for life as a teacher.
"I decided I wanted more from life than to talk to dead bones all day," he said.
Rather than hide his stutter and pretend he is a fluent speaker, he says he is honest with his pupils.
"And it's that honesty, it's that candid attitude that the students really admire and the students really respect," he said.
"They're seeing people on television who speak fluently, they see people in everyday life who speak fluently, but they're seeing me standing in front of them and being different. And it gives them a little bit of hope that I can be a little bit different and it's ok.
"I talk about embracing your quirks. Everyone has them and you should make the most of what you've got and I'm just trying to do that with my stutter."
Despite his stammer, Adam spoke at his own wedding and has made a best man's speech and presentations at university.
But he says his biggest achievement is at home, where he is able to read to his two sons.
"Every night I read to them and it's the best thing in the world because I never thought I would be able to read to any children I had. I don't take that for granted," he said.
"I look forward to that and I enjoy it."