'I could never have got rid of my baby to have chemo"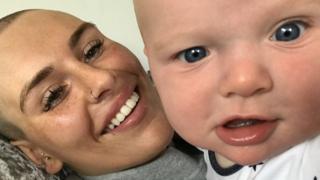 A medical student has been telling BBC Radio Scotland about delaying treatment for cervical cancer to have a baby.
Abbie Colvin found out she was pregnant when she went in for laser treatment in April last year.
The 20-year-old, originally from Glasgow, underwent chemotherapy after baby Oscar was born in December.
She continued with her studies after two weeks off, and gained a first in her Biomedical Science exams at Manchester Metropolitan University.
Abbie appeared on the Call Kaye programme to describe how she was diagnosed in January 2017, after undergoing a full sexual health screen.
"They told me that I may need a full hysterectomy and some laser treatment, and that I may not be able to have kids.
"I went for the laser treatment in April, and the tests on the day showed I was pregnant. It was a really big surprise, because I was on the pill."
Speaking to Stephen Jardine, who was sitting-in for Kaye, Abbie said the surprise was even greater as she'd only been in a relationship with boyfriend Oakley Buchanan, 21, for around eight weeks.
Oscar was priority
"Oakley was more concerned about my health than having a baby, but I didn't have that mind-set at all. I just saw it as the only chance I'm ever going to have, to have a baby.
"Until they told me I wouldn't be able to have children, I never knew I wanted them. I could never have got rid of Oscar."
"There was an option of having chemo while pregnant but I wasn't willing to that. My priority was the baby.
"So we compromised and I was induced early, so I could start my treatment early. His wellbeing was the only concern in my head."
Abbie, whose dream is to become a doctor, was full of praise for her boyfriend Oakley, as well as baby Oscar.
"It made me and Oakley a lot closer, and he has been dead patient with me, and he's put a positive outlook on everything.
"I now don't think I could have done any of it without him. Oscar's amazing. He's so healthy and happy and developing so well."
When Stephen asked her how she was doing, she said: "I'm really, really good. I've got an amazing support network. If I had to do it all over again, I wouldn't change a thing."
Good outcomes
Prof Hamish Wallace, who is a paediatric oncologist at the Royal Hospital for Sick Children in Edinburgh, told the programme: "By and large, cancer in pregnancy is rare. The aim is to try and treat it depending at the stage it is, and the outcomes are actually quite good.
"As long as you avoid chemotherapy in the first 14 weeks of pregnancy, you can usually treat cancer of the cervix in the way it should be treated."