Spain withdraws Clara Ponsati arrest warrant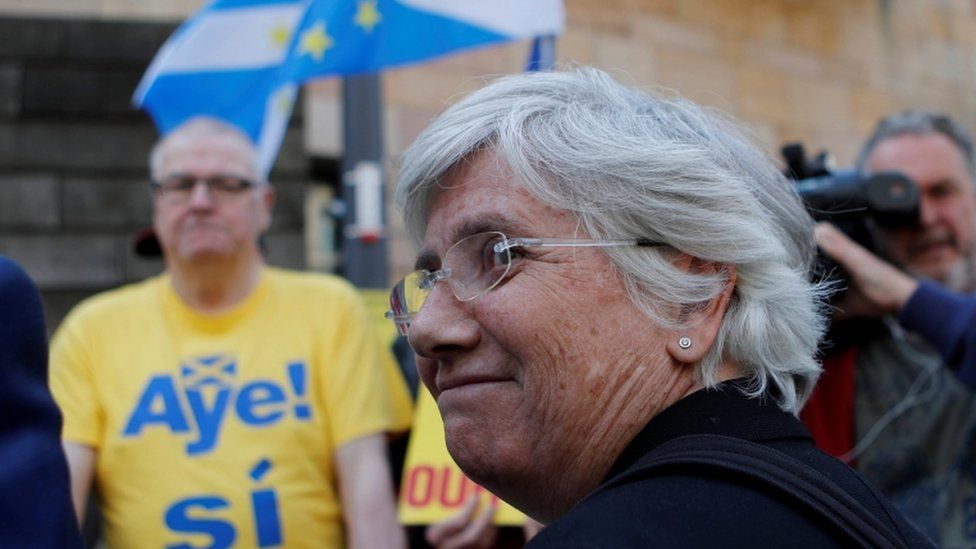 Spain has withdrawn a European arrest warrant for a pro-independence Catalan politician who has been battling against extradition from Scotland.
Prof Clara Ponsati was arrested by Scottish police in March.
Along with other Catalan leaders, she had been accused of rebellion and misappropriation of public funds over the disputed independence referendum.
A Spanish judge has now dropped the warrant for Ms Ponsati who tweeted a thank you to her supporters.
Warrants have also been dropped for the other Catalan politicians who fled abroad after last year's vote, which was ruled illegal by the Spanish courts.
They include deposed Catalan president Carles Puigdemont, who has been fighting extradition from Germany.
In his ruling, Supreme Court judge Pablo Llarena said he had taken the decision to withdraw the European warrants after a German court agreed to extradite Puigdemont, but only for misuse of public funds and not on the more serious charge of rebellion.
Under European law, Spain could not then try Mr Puigdemont on the more serious charge of rebellion if he was extradited.
However, national arrest warrants against Prof Ponsati and the other exiled politicians remain in place - meaning she would still face arrest by the Spanish authorities if she returns to Spain.
Several of Mr Puigdemont's aides, including Oriol Junqueras, remain in jail in Spain pending trial.
Prof Ponsati's full extradition hearing had been due to begin in Edinburgh at the end of this month.
Her lawyer, Aamer Anwar, welcomed the news that the European warrant had now been lifted, but said there had been no official confirmation yet from Spain.
He tweeted: "We await Spain's next step on warrants and a national warrant remains, which means Clara Ponsati remains in exile and political prisoners in custody."
Mr Aanwar later told BBC Scotland that "we are not celebrating yet" as Spain could still issue a fresh arrest warrant seeking Prof Ponsati's extradition on different charges.
Prof Ponsati, who briefly served as Catalonia's education minister, has argued that the charges against her are politically-motivated, and claimed she would not receive a fair trial if she returned to Spain.
Her lawyer has previously said she faces up to 33 years in prison if convicted of the allegations facing her.
The Catalonian independence movement has close links with its Scottish counterpart, and Prof Ponsati was given a standing ovation at the SNP conference in Aberdeen last month.
Scotland's first minister, Nicola Sturgeon, tweeted that it was "very good news" that extradition proceedings had apparently been dropped against Prof Ponsati.
Ms Sturgeon added: "Political differences should be pursued democratically not through criminal courts. Let's hope she is now allowed to get on with her life - and being the credit to Scotland that she is."
Prof Ponsati had been working as the director of the School of Economics and Finance at the University of St Andrews since January 2016, before being appointed as the Catalan government's education minister in July of last year.
She returned to work at St Andrews earlier this year, having been in Belgium since fleeing Spain with Mr Puigdemont and three other former cabinet members following an unsuccessful bid to declare independence from Spain in October.
A University of St Andrews spokeswoman added: "We are delighted for Clara, but will obviously monitor closely the further implications of the decision in Spain".