Strong winds shut down the ButeFest 2018 site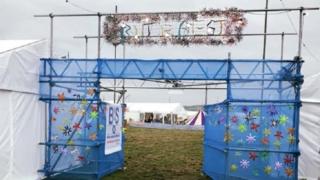 A music festival on the Isle of Bute had to be halted on Saturday night after strong winds damaged the stage and tents.
Two bands, Rura and Skippinish, were not able to play their sets after the ButeFest 2018 was closed.
The Met Office had issued warnings for heavy rain and potential gale force winds in the west of Scotland on Saturday night.
Organisers have told BBC Radio Scotland that the festival has now reopened.
ButeFest 2018 chairwoman Hazel Mullholland said: "We had a bit of wind in the afternoon, but at night-time it got a lot worse. It's nothing we haven't dealt with before, and it was all dealt with really quickly, so we're pleased with that.
"We had our sound stage starting to lift. We had a couple of tents, which weren't secured properly to the ground, which have obviously been picked up.
"Some of our traders' tents have had their framework damaged, so that's been sorted this morning.
"On the whole, everything was under control. And the help from the public was absolutely phenomenal. That's the great thing about Bute, everyone pulls together."
They posted tweets at about 23:00 on Saturday and again on Sunday morning.
Some campers had to be relocated to a large welfare tent on site, and some were offered accommodation by members of the local community.
Hazel Mullholland said: "Some of them stayed in our team tent, and we had a band playing to keep them entertained.
"We also managed to get people out to other accommodation, which was offered out from members of the community, which is what Bute is well known for, so everybody was safe and secure."
Festivalgoer David Hanvey, who happens to organise the Dirty Weekender festival in Kilmarnock, was one of those caught up in the shut-down.
He was there with his wife and children, and said: "When the wind picked up, we were in the family disco tent. They closed it and brought around 100 people into it and asked them remain in it.
"We were kept in there for around 30 minutes, and then everyone got back to the campsite.
"Thankfully our tent just held up. There were lots of tents not so lucky. The crew were great and had people in the crew tent and welfare tents where a few jam sessions broke out. For all the weather got really bad, everyone seemed intent to have a good time. "
Met office warnings
The site was closed before bands Rura and Skippinish performed, and festival organisers are due to make an announcement on whether they will be able to play later.
The Met Office had warned of strong winds and heavy rain for the west of Scotland up until midnight.
There are no current weather warnings in place for Scotland.