Half of Scots pledge to donate organs after their death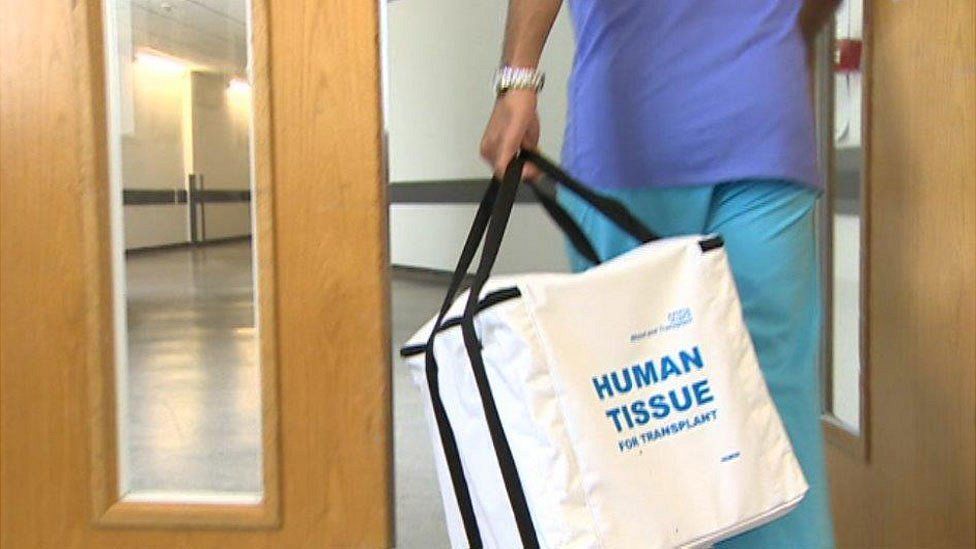 More than half of Scotland's population have registered to donate their organs or tissue after their death - the highest rate in Britain.
Figures show that more than 2,724,000 Scottish residents are registered on the UK Organ Donor Register.
Approximately 550 people in Scotland are waiting for an organ transplant, which could save or transform their lives.
The rise in donors comes after high-profile annual awareness campaigns.
On 4 July there were 2,724,358 people in Scotland on the UK Organ Donor Register - 50.4% of the population.
The UK average on 31 March was 38%.
Case study Khalid Mohamed - 'It has saved my life'
Khalid, 58, from Edinburgh has been on dialysis for 10 years.
Dialysis was going well, however, he wanted to try for a kidney transplant while his health was good.
It was by chance that he took the call telling him there was a potentially suitable kidney.
Khalid said: "I go to bed with my headphones on connected to my mobile phone.
"They happened to fall out and I woke up hearing my phone ringing so I answered it just just in time.
"The hospital told me there was a possibility of a kidney transplant and asked me to travel to Glasgow."
Reflecting on the success of his kidney transplant, he said: "It is sad that someone has given a life, but it has saved mine.
"I have no regrets in taking the chance, no hesitation at all."
At present, anyone who wants to donate organs after death must "opt in" to the system.
Surveys also show that about 90% of people support organ donation.
Legislation has recently been introduced at Holyrood that would move Scotland to a soft opt-out system with appropriate safeguards.
Under the proposed system, if someone has not stated a decision about donation after death, they may be deemed as having authorised it.
Health Secretary Jeane Freeman told BBC Scotland's Good Morning Scotland programme the latest organ donor register figures were an "excellent result".
She said: "I think it probably indicates that people in Scotland are more aware of the benefit of donating their organ or tissue in the event of their death and are prepared to do that."
But she said more needed to be done.
"Many people are waiting too long for the transplants they need and in the course of that waiting they become frailer and sometimes they die before the organ becomes available," she said.
"In other times the condition declines to the extent where they are not in the best condition to receive an organ. So we need to to try to shift this a bit more because we know that organ donation really does save lives."
Case study - Karen - 'It was tough but worth it'
Karen was a live donor for her son Dean who has been on dialysis for seven months.
Dean's kidney transplant was completed in January and has been successful.
Reflecting on her experience as a donor, Karen said: "They can tell you what to expect but it was a tough time, we are out the other end of it now and thankful that Dean is recovering well from it."
Karen and Dean believe that the organ donation system should be opt-out.
Dean said: "I think its fantastic that people do that, it is giving people an opportunity to have a kidney for another person"
Marc Clancy, consultant transplant surgeon at the Queen Elizabeth University Hospital (QEUH) said: "I have seen the unit grow from a small size performing 60 transplants a year to become the largest in Scotland.
"We are now transplanting 180 organs annually while achieving some of the best success rates in the UK.
"This is testament to the commitment of our staff and the national drive to expand organ donation."
Related Internet Links
The BBC is not responsible for the content of external sites.