Family of murdered teen meet justice secretary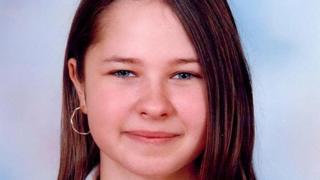 The family of a murdered teenager have met Scotland's justice secretary to discuss their campaign to strengthen the rights of victims of crime.
Michelle Stewart, 17, was stabbed to death near her home in Ayrshire by her ex-boyfriend John Wilson in 2008.
Wilson was given a sentence of at least 12 years, but could be approved temporary release after only nine.
Ms Stewart's family have launched a campaign calling for more input from families of victims in these decisions.
Following their meeting, Mr Yousaf said much of what was being sought by the Stewart family could easily be introduced and he would seek to see how that was possible.
First Minister Nicola Sturgeon has previously offered the family her sympathies and promised to look into the matter.
Michelle was attacked by Wilson while she was walking with two friends in Drongan in November 2008. She later died in Ayr Hospital from a stab wound to the chest.
Judge Lord Brailsford said the attack was "entirely unprovoked", and told Wilson he would be detained for at least 12 years before he would be considered for parole.
However Michelle's family - who had complained that the original sentence was too short - have now been told that the killer has been approved for temporary release.
They set up a petition calling for a halt to Wilson's relocation to Ayr on his release, gathering almost 4,500 signatures, and have now discussed their concerns with Justice Secretary Humza Yousaf.
They want an explicit requirement for the welfare of victims and their families to be taken into account when parole and early release are considered, as well as the creation of "exclusion zones" where offenders cannot go during early release.
They also want improvements to the victim notification scheme so families are given reasons for an offender's release, and can make representations in person.
Michelle's sister Lisa Stewart said: "My sister was taken from us when she was only 17 years old, in a savage, premeditated attack.
"The original sentence was not nearly long enough and now we face, just 9 years on, the prospect of seeing my sister's killer on the street, on the bus or in the shops. It is unbelievably painful.
"Other families have also contacted me, telling me of their terror at facing their loved one's attacker and that there's nothing they can do to stop it.
"That isn't right, and that's why we are launching this campaign. We are victims too, and our voices must be heard."
The Stewarts have been backed by the Scottish Conservatives, with leader Ruth Davidson raising the case with Nicola Sturgeon at Holyrood.
Ms Sturgeon said she would "look closely" at the matter, but stressed that "it is important that our justice system operates independently of ministers in individual cases".
She added: "It is important that we have processes in place that help with the rehabilitation of prisoners, but it is also important that the prison service and the Parole Board for Scotland get individual decisions right."
Scottish Conservative justice spokesman Liam Kerr said the "tragedy" of Michelle's death for her family had been "compounded by the lack of consideration given to them by the system".
He added: "Our justice system must always put victims at its heart, treat families with care and dignity and make sure that the needs of the victim and their families are always considered first, not the perpetrator."