Huge rise in dog attacks on sheep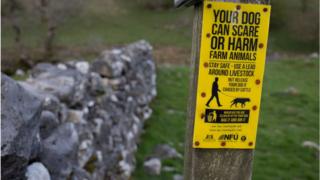 The number of dog attacks on sheep has risen by 67% in two years, according to the latest rural crime figures.
Data from insurer NFU Mutual found the attacks, known as sheep worrying, cost Scottish farmers £330,000 last year.
The figures are contained in its annual report, which revealed a 3.8% drop in the overall cost of crime to Scottish farmers last year.
That was despite a 13.4% rise in the cost of rural crime across the United Kingdom over the same period.
Farmers have blamed the double-digit rise in dog attacks on livestock on more ill-equipped dog walkers taking to the countryside.
'Quite distressing'
In Scotland, a farmer has the right to shoot a dog that attacks sheep and a court can order an owner to have the animal destroyed.
Martin Kennedy, a sheep farmer near Aberfeldy in Perthshire, said he had experienced the issue first-hand five times.
He said: "When I came out in the morning there was a sheep just mauled right in front of the house in the field and it was quite distressing, because the sheep was lying dead and in a serious state.
He added: "There was a dog that looked as if it had been distressed and had crossed a burn - it was wet and had wool in its mouth.
"The owner eventually admitted it and the dog was put down."
South of Scotland MSP Emma Harper, who is consulting on new legislation, said education did not seem to be enough for some dog owners.
'Latch-key dogs'
She said: "People accessing the outdoors seem to be aware of the fact that there is sheep in the field, but are still not putting their dog on a lead or having a dog under close control.
"We're also hearing a lot about latch-key dogs, which is where people just open the back door and let the dog out for a run."
She added: "There's been lots of legislation attempting to address this but it seems that all these pieces of legislation are just leading to further confusion so we're trying to make it as simple as possible so that everybody understands what is the best way to access the outdoors in the most responsible way."
Despite the rise in sheep worrying police have welcomed the drop in the cost of rural crime.
They said it was down to the work of the Scottish Partnership Against Rural Crime (Sparc) - a partnership, involving Police Scotland, the Scottish Business Resilience Centre and NFU Mutual.
They have sighted a 48% drop in the cost of farm vehicle thefts in Scotland in the past three years as a sign of their success.
Ch Supt John McKenzie and chair of Sparc, said: "Across Scotland, rural partners and police have worked extremely hard to make a real difference to communities and the continued downward trend of crime figures in rural communities is an outcome linked to this approach.
"The close working with partner organisations means that we can quickly respond to emerging trends and crime hot spots and target those who pursue criminal activity in rural communities."