What is the Glasgow asylum row all about?
By Philip Sim
BBC Scotland political reporter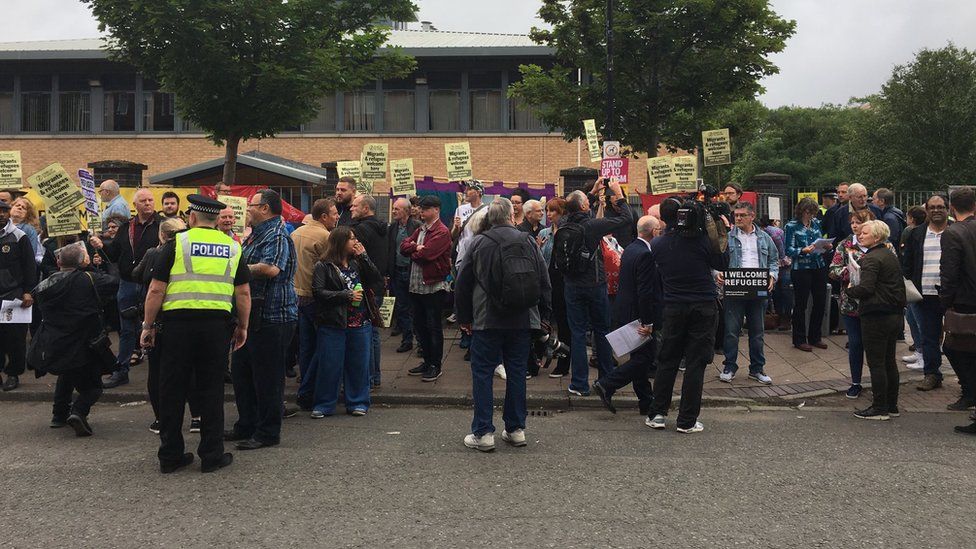 Plans to evict asylum seekers from properties run by a Home Office contractor in Glasgow are being challenged in court. What is this row all about?
How does the UK's asylum process work?
In order to claim asylum in the UK, refugees must have left their home country and be unable to return for fear of persecution.
While their claims are assessed, people can apply for housing - it could be a flat, a house, a hostel or a bed and breakfast, anywhere in the country - and an allowance to pay for food and other necessities. They are not generally allowed to work.
Successful applicants are given "leave to remain" in the UK as a refugee for five years, after which - if the situation in their home country has not improved - they can then apply to settle in the UK more permanently.
Those who are not successful are asked to leave the country, although there is a window in which appeals can be lodged.
They are encouraged to leave voluntarily, but legally they can be detained without warning at an immigration removal centre and forced to leave the UK.
Where does Serco come in to this?
Serco Group is a private outsourcing firm which provides public services on behalf of governments and local authorities. It operates in countries across the world, from building Antarctic icebreaker ships to operating the metro system in Dubai.
In the UK alone it works across a huge range of areas, from transport and hospitals to prisons and the military. In Scotland, it runs HMP Kilmarnock, works with NHS boards in Forth Valley and Dumfries and Galloway, and has signed a deal to deliver a bike-hire scheme in Edinburgh.
Another of Serco's contracts is from the Home Office, to provide accommodation and support services for people while their asylum claims are being processed.
It manages a "significant property portfolio" across the country, which it uses to house asylum seekers while their claims work their way through the system - a process which can sometimes take years.
Chief executive Rupert Soames claimed in 2016 that the firm was "not going to make money on this contract", but said it was willing to pay this cost because "we feel very passionately about looking after asylum seekers well".
What is happening in Glasgow?
Serco provides accommodation for about 5,000 people in Scotland, almost all of them in Glasgow.
The majority of these are awaiting the outcome of their asylum claims, but some - currently around 330 - are no longer receiving any funding support from the Home Office.
About a third of these people have been granted leave to remain in the UK, and the rest have been refused asylum.
The number of people staying on unfunded by the Home Office has almost doubled since last August, and Serco says it can no longer afford to effectively put them up for free - having lost £80m on the asylum accommodation contract over the last five years.
It also says there is no longer any room for new asylum claimants arriving in Glasgow, claiming that new arrivals "have to be put in hotels".
The firm is now seeking to "move on" some of the unsuccessful applicants, and have threatened to change the locks on their doors in a bid to force them to leave.
Word of the lock-changing plan provoked an outcry, with groups and charities backing the asylum seekers saying Serco was seeking to evict vulnerable people from their only place of shelter.
Housing charity Shelter Scotland said making people homeless was not the way forward, calling it a "deplorable and inhuman course of action".
Housing associations which lease buildings to Serco have spoken out, and the local council made three separate pleas to the Home Office, saying that making hundreds of people destitute could cause a "humanitarian crisis".
The Scottish government has also weighed in, with First Minister Nicola Sturgeon saying she was "appalled" by the move and urging the Home Office to be "humane" with asylum seekers.
On Monday, housing charity Shelter Scotland filed papers at Glasgow Sheriff Court on behalf of two people, seeking to prevent the lock-changes. The Legal Services Agency was also in court on behalf of a third individual.
Shelter says their clients are "actively working with immigration lawyers to resolve their asylum claims", and should be allowed a home to live in while this is ongoing.
Both sides have welcomed the court action, with Serco saying it should provide clarity "as to how the law will apply to people who refuse to move on from the free accommodation provided to them".
They say their approach is "fully within the law", and hope the court will confirm this position.
Related Internet Links
The BBC is not responsible for the content of external sites.