Extreme weather hits Scotland's grouse shooting season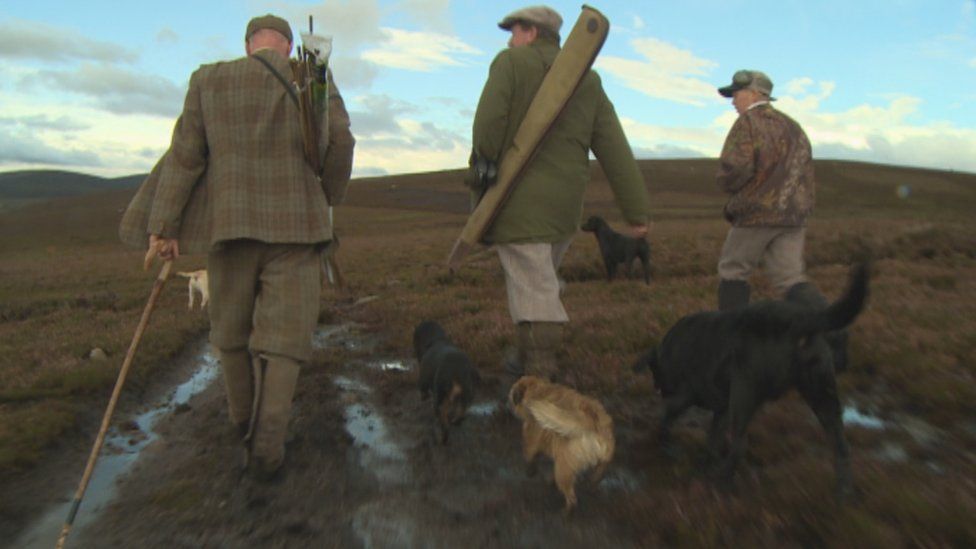 Scotland's gamekeepers are expecting a poor grouse shooting season this year.
Late snow in March followed by warm dry weather in May, June and July has affected the number of birds breeding successfully.
This means some estates are cancelling shooting days to preserve future stocks.
The grouse season in Scotland is estimated to be worth £32m each year. The bad season is likely to have a knock on effect for tourism.
'Less international shots'
Scottish Gamekeepers Association chairman Alex Hogg said his members, however, will still deliver millions of pounds of "free" conservation measures despite the poor shooting season.
"Someone ultimately has to pick up the tab for conservation because it is expensive," he said.
"Our members are out every day in all weathers controlling predators and undertaking habitat work at landscape scale.
"This protects game species - the business model - so some of the income comes back, but it also benefits an array of species particularly the many threatened ground-nesting birds we now have in Scotland.
"This year, sadly, it looks like we will welcome less international shots for the grouse and that will squeeze the money available for estates to pay for everything else.
"But the management still goes on every day, without diverting public cash the government needs away from other priorities like schools, roads and hospitals."
Sporting shooting supports 11,000 full-time jobs in the country, of which 2,640 are in the grouse sector.
The Gift of Grouse campaign aims to highlight the importance of grouse shooting for Scotland and the economic, leisure, tourism and conservation benefits.
A campaign spokeswoman said: "The unpredictability of this iconic wild bird is part of what makes grouse shooting so sought-after at an international level and such an important element of the field sports tourism offer of Scotland.
"Grouse can bounce back remarkably quickly in the right weather conditions, so moor managers are careful to maintain their breeding stock ready for that recovery, hopefully next year."
Conservation groups such as RSPB Scotland have held the shooting industry to account over its management practises.
Amid tensions over the alleged persecution of birds of prey by the industry, it has advocated the introduction of a licensing system to regulate estates.
Shooting season for the game bird usually begins each year on August 12, known as the Glorious Twelfth, but will start this year on Monday as the traditional date fell on Sunday.
Related Internet Links
The BBC is not responsible for the content of external sites.