Postcard campaign urges parents to boycott controversial P1 tests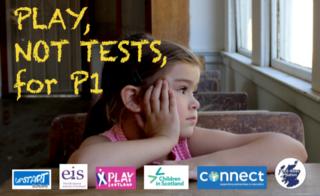 A campaign has been launched to encourage parents to withdraw their children from new Primary 1 assessments.
Upstart Scotland has produced special postcards for parents to hand in to schools.
The Scottish government said parents have no legal right to withdraw their children from the assessments.
But it added that schools do have discretion to decide whether children should take part.
The standardised assessments in P1, P4, P7 and S3 were introduced across Scotland last year.
The P1 tests are designed to measure the literacy and numeracy of children as they start off in school.
Children answer a series of multiple choice questions on a computer in an exercise which the government says should be enjoyable.
But the assesments have been controversial - some oppose them in principle, others have practical concerns.
The EIS union said there have been cases where children taking part have been distressed.
All the opposition parties at Holyrood want the current P1 assessments scrapped.
Upstart Scotland, which campaigns for learning through play, says it will provide parents of primary one children with postcards to hand in at their child's school, opting out of the controversial Scottish National Standardised Assessment tests.
The postcards will be available from Upstart supporters around Scotland and through four other national organisations which have endorsed them - the EIS, Children in Scotland, Play Scotland, Connect (formerly the Scottish Parent Teacher Council) and ACE-Aware Nation.
The chairwoman of Upstart Scotland, Sue Palmer, said: "Wherever national standardised testing has been introduced it has narrowed the curriculum, encouraged teaching to the test and caused anxiety among children, parents and teachers. This is particularly damaging during children's early years.
"Due to Scotland's extraordinarily early school starting age, our P1s will be sitting tests at an age when the overwhelming majority of European children aren't even at school."
The government believes some of the concerns about the assessments are misplaced.
'Everyday teaching and learning'
It has always insisted they are not "high stakes tests". Children do not pass or fail them and it says teachers may find diagnostic information helpful.
One reason for carrying out tests in P1 is to make it possible to measure the progress children make by the time they take part in more assessments in P4, P7 and S3. The P1 data can provide a benchmark to show what stage children are at before schools or teachers have made a difference.
Some opponents believe, despite government reassurances, that the data will be used to judge schools and teachers.
The government has also disputed claims that parents have a formal legal right to withdraw their child from the assessments.
It says: "The assessments are part of everyday learning and teaching. As has been the case for decades, for almost all teaching and learning there is no formal legal right for parents to withdraw their child from individual elements of that teaching and learning.
"However, as the Scottish government has always maintained, if a parent did not wish their child to take part in an aspect of teaching and learning, they should discuss this with the school - who have discretion available to them to decide whether the child then takes part in any given activity."