Deer stalker hoping to pass 'culling, not killing' on to fifth generation
By Laura Pettigrew
BBC Scotland news website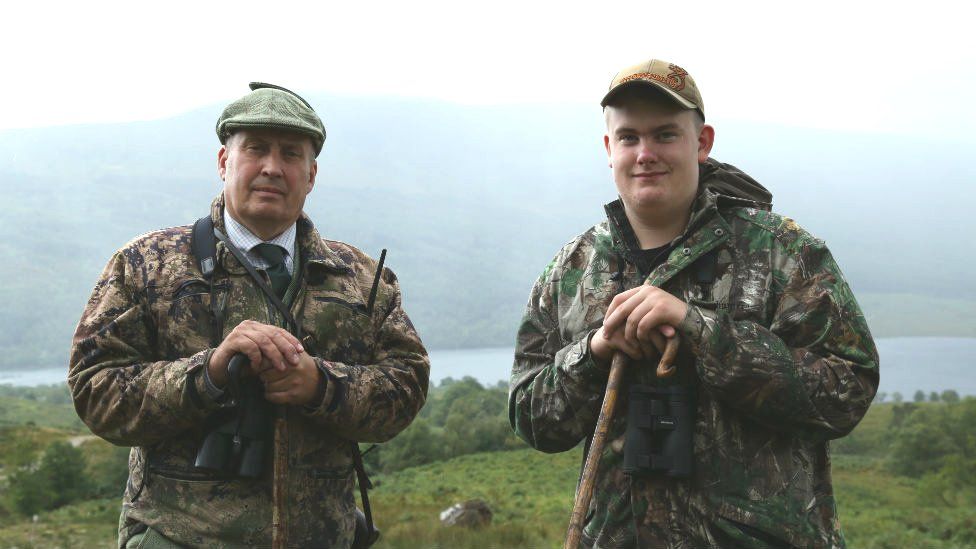 Alex MacDonald has stalked the hills and glens of the Achnacarry Estate in the Highlands for almost 40 years.
His father did it before him, his grandfather before that, in fact it all began with his great-grandfather and now Alex is hoping to hand on his expertise to a fifth generation.
"Don't move, don't move," he tells his 15-year-old son Cameron. "He could smell us at any second."
It's early July and the stag season is just getting under way. The pair are high in the hills and Cameron's supposed to have his eyes on what could be his first stalked stag.
"I was looking at the total wrong bit," he tells his dad as he readjusts his binoculars.
Their unique way of life is being charted in a BBC documentary following stalker Alex as he manages the 3,000 red deer of the estate near Fort William.
He's keen to pass this family career path on to a somewhat reluctant Cameron.
Alex says there's more to stalking than simply killing the animals.
There's a great deal of skill involved and maybe a bit of inbuilt instinct, he says.
"It's got to be in your blood. It's in you," Alex says.
Alex's first stalking experience was alongside his father at the age of 13 and from then on he "couldn't get enough".
But the shooting is just part of the bigger picture, he says.
For Alex, stalking is about keeping the herd healthy and getting rid of the weaker animals.
"If it wasn't done there would be overpopulation and a really high death rate," Alex claims.
"Stalkers have a tremendous respect for the animal and that is so important.
"You get a lot of people that don't really understand the job. They think it's just a case of going out and killing but it's not, it's culling."
And that's a view shared by fellow stalker John Morrison.
The Achnacarry Estate is so large that to make it manageable it is divided in two with Alex and John taking a side each.
"The idea is we are managing the herd, we are looking after the herd," says John.
"We like the deer. We don't want to shoot any old one, we try to pick the ones that are poor.
"You want to keep the big, majestic, royal stags - the ones that you see on the biscuit tins. We want them to remain on the hills and put their genes into the future generations."
With future generations in mind Alex's son Cameron says he might eventually join the "family business" but not "straightaway".
"I'd love to come back and do it once I've done another job for a while. I'd love to carry it on," he says.
For dad Alex it's important not to "push" Cameron into stalking.
"Especially in the situation here, where I am number four in the line of stalkers and Cameron could be number five," he says.
But he's optimistic: "I can see him getting keener and keener. Hopefully he'll shoot his first stag this year."
The hunting year is divided into seasons with the winter months being devoted to shooting female deer (hinds) and the stag season getting under way in July.
In between there is work to be done ensuring the herd is healthy and well-fed and keeping an eye on the deer count across the estate.
Seven years ago Alex also decided to widen the estate's offering to include additional "country pursuits" such as clay pigeon shooting.
"It's about modernising a traditional sporting estate," he says.
"Running both deer forests costs a lot of money and we couldn't afford just to do the deer. We need to take in other income off-season."
But while there's been a focus on diversifying and modernising, the old traditions have a new lease of life on the estate too.
As part of the country pursuits business, Alex has reintroduced hill ponies to Achnacarry.
These hark back to the days before cars and noisy engines, when the ponies brought the shot stags off the hills.
"There is nothing nicer than seeing a pony taking a stag home," he says.
Back on the hills Cameron's attempt at claiming his first stag has been thwarted by the swirling wind, a lack of back-drop for the bullet, and some hill walkers who have spooked his target - a seven-year-old with twisted antlers.
Dad steps in to take the shot.
As he and Cameron get the dead deer ready to be taken down the hill by pony, Alex is hopeful that his family stalking legacy will be passed on
"If my father and grandfather were looking down on at the scene of Cameron and I out there in the hills earlier, I think they would feel very proud."
The Deer Stalker, part of BBC One's Our Lives series, will be broadcast on BBC One at 18:05 on Sunday 26 August and will be available afterwards on the BBC iplayer.