Public sector to compete for ScotRail franchise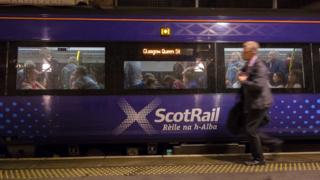 Public sector bodies will be able to bid for the next ScotRail franchise, Scottish ministers have confirmed.
Bidders which are wholly owned by the Scottish government could compete with private firms to run the train service.
The parent company of ferry operator Caledonian MacBrayne appears likely to be among those bidding for the next contract which begins in 2025.
Transport Scotland said David MacBrayne Limited has confirmed its interest in exploring the possibility of a bid.
It comes after the Scottish Parliament was given the power to allow public sector bids for rail franchises under the Scotland Act 2016.
The SNP made clear its plans to use the new powers in its election manifesto in the same year.
Michael Matheson, the cabinet secretary for transport, said the government believed there should be a "level playing field" for the private and public sector in bidding for rail franchises.
"We secured the right for a public sector operator to bid for a rail franchise in Scotland, after being denied by previous UK governments," he added.
"Identifying a public sector body to make a bid has not been easy. It was vital to consider a range of scenarios as we want to strengthen competition and achieve best value for the public purse, while delivering continuous service improvements.
"It is important for any public sector bidder to have the appetite to bid; the capability and capacity to see the bid through; and the ability and resources to make the franchise a success.
"It is also our view that the Scottish Parliament and the Scottish government should have full powers to consider all options for structuring our railways to meet Scotland's needs."
'Poor performance'
The franchise is currently run by Dutch state-owned Abellio, which won a 10 year contract which began in 2015.
However, the government could cancel the contract at its halfway point if the firm fails to meet its obligations.
Scottish Labour's transport spokesman Colin Smyth called on the government to use "growing evidence of poor performance" to end Abellio's term early.
"When the SNP handed the franchise to run Scotland's railways to Abellio, they said it would be a 'world leading' deal, but the reality for Scotland's hard-pressed passengers has been anything but with hikes in fares, overcrowding, delays and stop skipping," he said.
His view was backed by transport union TSSA, which also argued that the franchise system should be scrapped all together.
General secretary Manual Cortes said: "Instead of wasting money on consultants to guide them through the franchise process a directly appointed public body could invest in more staff, better rolling stock and better toilets on the trains. The franchise process means passengers pay more and get less."
'Huge risk'
And Green MSP John Finnie said: "The transport secretary's insistence that he'll be 'giving equal treatment' to franchise bidders from the private sector doesn't inspire confidence that we'll have a publicly-run, improved and expanded rail service in Scotland any time soon."
Meanwhile Jamie Greene, of the Scottish Conservatives, accused ministers of "pursuing ideological vanity projects".
And he warned: "A public sector operator taking control of the ScotRail franchise shifts huge risk and potentially millions of pounds onto the shoulders of the Scottish taxpayer without any guarantee of an improvement in the quality."
David MacBrayne Limited is the parent company of CalMac Ferries, Argyll Ferries and harbour operator Solent Gateway.
It is a publicly-owned private company and its sole shareholder is the Scottish government.
Transport Scotland said future rail franchise competitions would be "fair and transparent", giving equal treatment to all bidders.