Map reveals 'scourge' of Scotland's coastal litter problem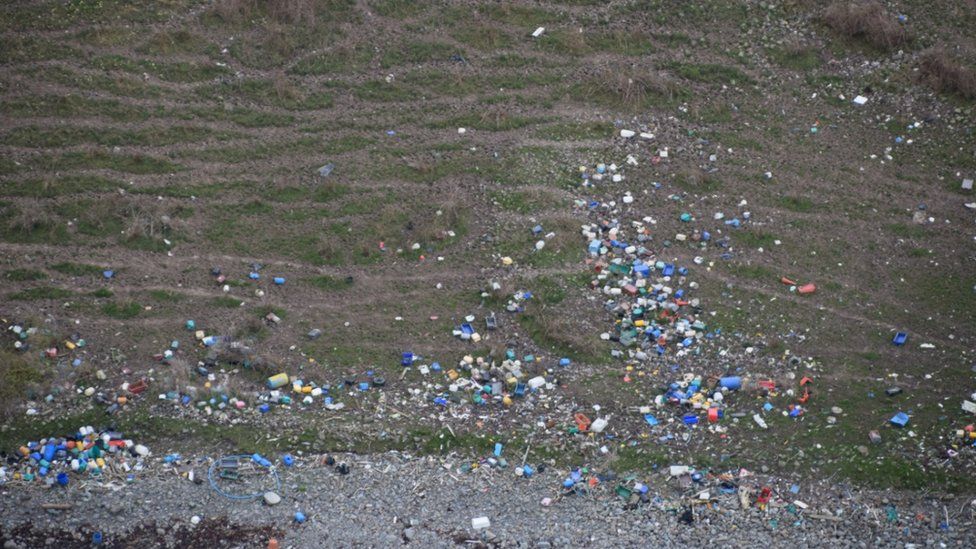 A map identifying litter hotspots along Scotland's coastline has been launched.
Aerial photographs of plastics and rubbish washed up and blown up on to beaches has been posted online.
The aim is to help organisations and volunteers involved in clean-up work better target their efforts - particularly in remote areas where litter often remains "hidden".
Those behind the project hope it will become an "invaluable tool" in the fight against marine litter.
The Scottish Coastal Rubbish Aerial Photography (SCRAPbook) is a collaboration between three charities - the Marine Conservation Society, Sky Watch Civil Air Patrol and the Moray Firth Partnership.
Pilots and observers have been taking to the skies to photograph thousands of miles of Scottish coastline.
Archie Liggat, chairman of the UK Civil Aviation Patrol, told BBC Scotland: "We thought we would just be finding small amounts of scattered plastic, domestic rubbish but it's not that. It's industrial rubbish we've been finding.
"It's a huge amount of plastic containers that look like they have come off ships. There's fish boxes, there's fish nets, there's old bits of cable. We are talking metric tonnes of stuff in some places."
Mr Liggat said: "And the thing is we are just seeing the big stuff from the air and normally when we find even small amounts of big stuff, then mixed in with that is vast amounts of small stuff and that only becomes evident when people actually get on to the beach and start looking."
And that is precisely the aim of the new map. Pictures taken from the sky are uploaded to the SCRAPbook website - with the litter discovered classified on a scale of 1-5, with 5 being the worst.
The task is then to get groups onto the beaches identified to begin the clear-up.
Catherine Gemmell, from MCS Scotland, coordinates thousands of volunteers as part of the charity's Beachwatch programme.
She said: "With nearly 10,000km making up Scotland's mainland coast we know there are many stretches of beach that have had no recorded clean-up.
"SCRAPbook will help address that, and provide us with new information that will be crucial to highlight to government and industry what steps we need to be taken next in the fight against marine litter."
Mr Liggat described Scotland's coastal litter problem as "an emergency".
He said: "This is an enormous problem, much bigger than we initially thought.
"The trouble is that people don't realise that this problem exists because no-one has found this stuff before.
"Some of these areas are so isolated, that they can't reasonably be found from the ground, they can't be seen from the sea because they are level with the coastline and many of them are over the top of cliffs and things so you wouldn't be able to see them.
"Light aircraft are the only real way of finding this stuff."
The map can be used by anyone and the hope is that local communities, businesses, schools and water sports clubs will get involved with tackling the issue.
The idea came from the Moray Firth Partnership. Vicky Junik from the charity said: "We hope that SCRAPbook will become an invaluable tool to everyone tackling the rising tide of marine litter.
"The easier it is to find out where the litter is, the easier it is to mobilise clean-up efforts, and we've tried to focus on the less popular or harder to reach parts of the coastline."
It is hoped the project will also allow scientists to work out where the pollution is coming from.
"But at the stage we are at we also need to take efforts to understand why it is there, how it is getting there and how to get rid of it."
Minister for Rural Affairs and the Natural Environment, Mairi Gougeon, said: "Litter washed up on our coastline is a scourge that harms our natural environment, both in the sea and on land.
"By collating this information we can better understand where further attention needs to be focused in our continuing efforts to clean up our beautiful coastline."
All images are subject to copyright.
Related Internet Links
The BBC is not responsible for the content of external sites.