Sunday Herald shuts amid sales decline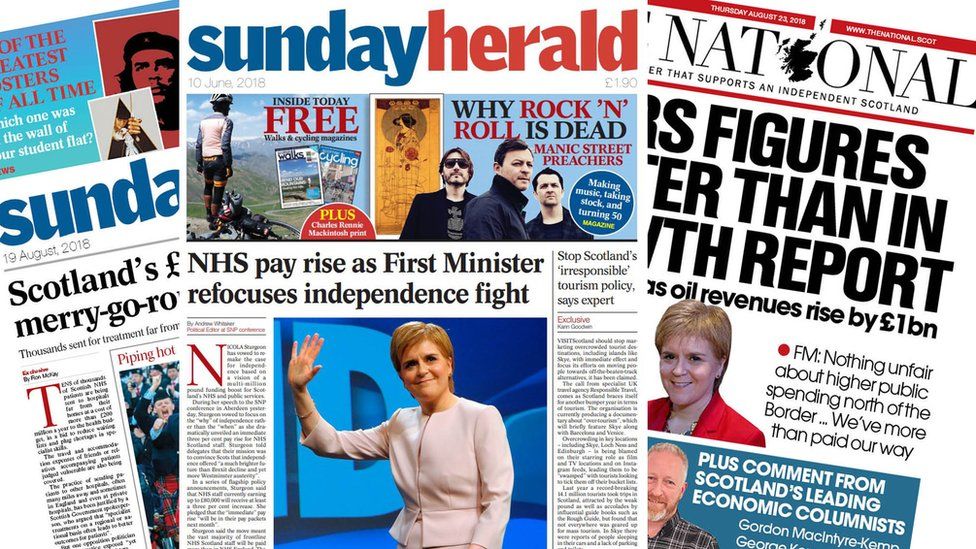 The Sunday Herald has published its final edition after 19 years.
The final 40-page souvenir edition hit the stands, prompting tributes from politicians, celebrities and other figures from Scottish public life.
Among those lamenting the paper's demise was actor Elaine C Smith, lawyer Aamer Anwar and the SNP's Angus Robertson.
However, despite seeing a brief circulation boost, it went on to see its sales slump, with the latest figures showing an 18% drop in print sales compared with 2017.
Mr Anwar said it made him "incredibly sad" to see the paper go. He took to twitter to say the paper had made a real difference.
He wrote: "U made a real difference, so many without power or money would have been silenced or crushed had u not been there."
Former SNP deputy leader Angus Roberston wished all those involved with the paper good luck.
Writing a tribute in the paper's final edition, Elaine C Smith said the paper's political commentary had "kept her sane".
She added: "I feel sad that things are moving and that there is no more Sunday Herald, but I am pleased the National on Sunday is being printed and that will be the paper in my house from now on."
Latest newspaper figures show that The Scotsman saw a 20% drop in print circulation compared with last year.
It was the heaviest faller in the most recent figures from the Audit Bureau of Circulation - down to just 16,300.
Of those, more than 3,200 were bulk sales, given away free at hotels and airports.
'Bold and ambitious and punched above its weight'
By Douglas Fraser, BBC Scotland business/economy editor
I joined it as political editor in summer of 1999, six months after it launched into the new dawn of devolution.
It was a bold and ambitious project, for which launch editor Andrew Jaspan deserves top billing. He had been bold and ambitious before, as editor of Scotland on Sunday.
Among the skills he brought to those weeklies was the building of strongly-bonded, motivated teams of young journalists, with encouragement to reflect a young, modern Scotland, and to set Scotland in a global context.
The Sunday Herald had terrific design - a factor too often under-appreciated in news publishing - for which much of the credit should go to its second editor, Richard Walker.
It had style. It makes a big difference to see your writing that well presented. Occasionally, I admit, the presentation was somewhat better than my article. There was no pig to which Richard could not expertly apply lipstick.
We worked on the latest big thing in desktop computing - the iMac. We were so modern we had actual email addresses next to bylines.
The website was an integral part of the news offering, rather than, in other papers, a barely-understood add-on which would later threaten to devour the print industry.
Although resources could be meagre, it didn't hold back with its world view.
I sought to shed light and context on the febrile atmosphere in the early days of the Scottish Parliament.
The readership was never big, and was focused on a few postcodes not far from Glasgow's Byres Road. But it was a newspaper that mattered. It punched above its weight, with a reach far beyond its core.
As one of the papers encouraging readers to take out subscriptions, nearly 5,000 of The Scotsman's sales were at a discounted rate.
However, there was better news on the digital front for the paper, which saw its average daily online users rise 13% to 138,700 in the first half of this year.
The Scotsman's sister titles - the Scotland on Sunday and the Evening News - are no longer included in the industry audit every six months.
The Glasgow-based Herald, which dates back 235 year, saw average daily sales of its print edition 12% down to 24,300.
While other titles have been growing their online readership, the industry's own audit figures showed heraldscotland.com was down 15% in its average daily users, to 78,900.
That was affected by the paywall that greets visitors to the website.
Among the other Scottish regional titles continuing to fall in the first half of this year, was the Press and Journal.
Sales were down 7% to 45,900, while sales of the Dundee Courier dropped 8% to 34,300.
Once again, the only major title to see a rise in print sales was The Times, which has recruited Scottish journalists as others have shed them.
Its Scottish edition saw circulation up more than 1% to 28,500 from January to June.
That was helped by discounted offers and access to its paid-for news website. However, across the UK as a whole, The Times readership was down more than 3%.
The Financial Times also saw a rise in Scotland, but from a low point to 3,700 average daily sales.
In the battle between red-top tabloids, the Daily Record fell further behind The Scottish Sun in the first half of this year when compared with the same period in 2017.
The Record was down 13% - with daily sales in Scotland of 126,700, while The Sun was down 8% to 182,500.
There was a faster fall for the Daily Record's sister title, the Sunday Mail, which lost its top spot in the weekly market - falling 15% to 131,200 average weekly sales.
The Scottish Sun on Sunday was down 9% to 138,900.
The once dominant Sunday Post, despite investing in its journalism, saw Scottish sales in the first half of this year fall by 13% to only 92,100.