P&O stops transporting calves following BBC investigation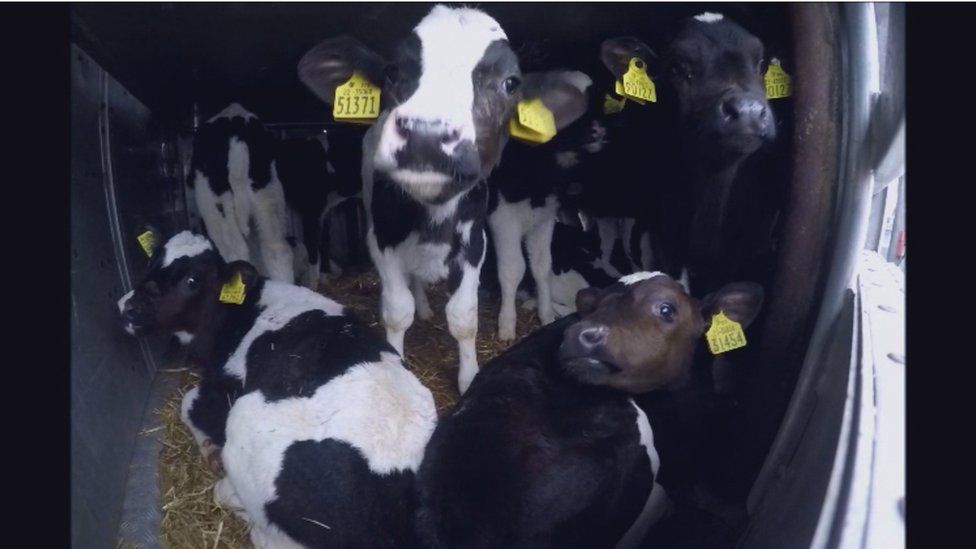 A ferry operator has said that it will stop carrying calves to Europe after animal welfare concerns were raised by a BBC Scotland investigation.
P&O said it was ending the practice with immediate effect following the broadcast on Monday of "Disclosure: The Dark Side of Dairy".
The Scottish government said it was concerned at P&O's reaction.
NFU Scotland said it was a "disappointing" decision and described the documentary as "sensationalised".
About 5,000 calves were shipped to Europe last year from Scotland.
Campaigners claim the long journey is harmful but the industry said the alternative was shooting them at birth.
Male calves are surplus to requirements on dairy farms.
The Disclosure team learned that calves were being exported via the port of Cairnryan in Dumfries and Galloway.
The ferry from Cairnryan travels to Larne in Northern Ireland.
Livestock is then taken to Rosslare or Dublin in the Republic of Ireland for onward shipment to the continent.
Most calves were then taken to Catalonia in Spain, at just three weeks old, to be fattened before slaughter.
Scotland is central to the trade in calves because elsewhere in Britain the ferry companies refuse to carry animals for slaughter and fattening.
However, as long as exporters and hauliers abide by regulations governing the trade, the business is legal.
P&O released a statement on Tuesday, saying: "We can confirm that P&O Ferries will cease co-operating with the Scottish government to transport across the Irish Sea young calves destined for continental Europe with immediate effect.
"We place the highest priority on animal welfare across all of our routes and were shocked by the scenes in last night's documentary.
"We will not hesitate to act decisively and close the account of any customer which breaches our policies in this area."
Rural Affairs Minister Mairi Gougeon raised P&O's decision at the Scottish Parliament.
She said she was shocked by the scenes she saw in the documentary but emphasised that there was not anything that suggested any harm had been done or there was any breach of any welfare standards by anyone transporting the calves from Scotland to Northern Ireland, Ireland or continental Europe.
"So I am concerned about the decision which has been reached by P&O," she added.
"I will urgently seek to find out more information about this because obviously we need to determine that there are no other impacts to live transport of animals to Northern Ireland or Ireland or more widely."
She said the government was "absolutely committed" to ensuring that livestock in Scotland was treated humanely and to the highest possible welfare standard, and urged anyone with evidence that this was not happening to come forward.
Ms Gougeon also said the issue of male dairy calves was "very complex" and "not a black and white situation" as they are currently of no real productive value in Scotland so either end up being slaughtered at birth or exported to other countries.
She added: "No-one is very comfortable with that situation. We will work with the sector to look at other options".
NFU Scotland President Andrew McCornick said: "Although the scenes are distressing there is actually no evidence to indicate that the Scottish calves travelling to Northern Ireland, Ireland and continental Europe were subjected to this kind of treatment.
"The distressing scenes were those of cattle being shipped onto boats, which we have discovered were obtained in Romania and were Hungarian cows. The scenes in the Egyptian slaughterhouse were wholly unacceptable but again, there is no evidence to indicate that these are Scottish cows. Even the clips of the dairy calves in the market were not Scottish calves."
He said NFU Scotland had the "utmost faith" in the Scottish government and the chief veterinary officer to ensure high welfare standards.
"It is disappointing to learn that P&O Ferries have reviewed their policies following this sensationalised and inaccurate documentary and we will look to work closely with them to see where members of ours who this will effect can go from here," he added.
"Following on from the Disclosure documentary, NFU Scotland is writing an official complaint to the BBC in regards to the standards of the reporting involved in the documentary and journalism showcased in the programme which, disappointingly, has already had an immediate effect on the agricultural industry."
A spokesman for BBC Scotland said: "We stand by our journalism. The investigation was neither sensationalist nor inaccurate and has raised issues of public interest."
Scottish Greens farming spokesperson Mark Ruskell MSP said: "The firm line being taken by P&O after I contacted them shows that a private ferry operator has more backbone than the SNP government. Live animal exports is an issue the public care deeply about, and Nicola Sturgeon's ministers are complicit in animal cruelty.
"I welcome the update from P&O and the pressure will continue to mount on the Scottish government whose support for live animal exports is tarnishing Scotland's reputation for good food and animal welfare."
Campaigners said subjecting calves to such long journeys was unnecessary and said they should instead be reared for the beef market in Scotland.
Compassion in World Farming congratulated P&O on its decision and encouraged others to follow suit.
A spokesman said: "The calves suffer greatly during these long journeys. They are just 2-3 weeks old and far too young to cope with such protracted transport.
"P&O's decision to halt its involvement in this inhumane trade will hopefully halt Scotland's calf exports. We urge other ferry companies operating from the west coast of Britain to Ireland not to step in to transport these animals."
The BBC Scotland Disclosure team's investigation is the first time the exact destination and age of the cattle has been established.