Obese mums 'putting strain on midwives'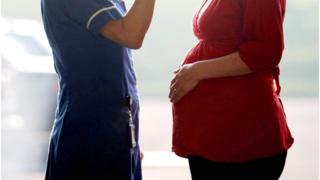 Obesity levels and the rising age of pregnant women are placing extra strain on midwives, a report has said.
The Royal College of Midwives said the proportion of overweight and obese pregnant women in Scotland reached 51% for the first time last year.
More older women are also having babies, with 1,907 births to women in their 40s - 68% more than in 2000.
Obese, overweight and older women are more likely to require additional care and support throughout their pregnancy.
The Royal College of Midwives (RCM) said this rise in demand for services came as the proportion of vacant midwifery posts rose from 1.3% to 5% over the past five years, with the problem "particularly acute" in the north of Scotland.
Greater risk
RCM Scotland director Mary Ross-Davie told the BBC's Good Morning Scotland programme that obese and older mothers were at greater risk of suffering during pregnancy, as were their babies.
She said: "They may have complications like diabetes or high blood pressure, but there are also more risks for the baby in terms of their growth and them being born prematurely.
"So what we need to do is provide those women with more care. That may be more appointments, longer appointments and more investigations and monitoring."
The RCM has also there are still some concerns over the ageing midwifery workforce despite an increase in the number of younger midwives.
The proportion of midwives aged 50 or older jumped from 34% in March 2013 to 40% in March 2018.
Ms Ross-Davie welcomed the Scottish government's drive to boost the number of student midwives, but said they may not come quickly enough.
Health Secretary Jeane Freeman said: "While there has been an increase of 5.7% in the number of qualified nurses and midwives under this government, we're determined to go further to ensure we have a sustainable midwifery workforce long into the future.
"That's why we're investing a Return to Practice Programme, where 55 former midwives returned to service, and a shortened midwifery course in the north of Scotland to meet the specific recruitment challenges in that region."