Hundreds of women over 70 not invited to final breast screening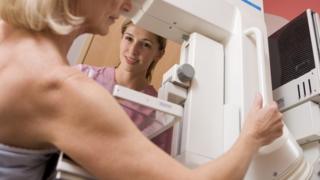 Almost 1,800 women are being contacted by NHS Scotland after it emerged they were not invited for breast screening appointments.
Women in Scotland aged 50 to 70 are routinely contacted about screening.
But delays within the programme meant 1,761 women were not invited for their final appointment by the time they had reached 71.
The health service said it would write to the women concerned to arrange screenings "as soon as possible".
The length of time the women have waited for their appointments is said to range from three years to a few months.
Screening the women who missed appointments should not affect routine breast check-ups, according to the Scottish government, with NHS screening centres making arrangements for them to be seen as quickly as possible.
Meanwhile, additional NHS staff are being put in place in a bid to provide reassurance to those affected.
Health Secretary Jeane Freemen said she apologised fully to the women involved, and acknowledged it would be a worrying time for them.
She added: "Resources have been put in place to ensure they are screened promptly and offered any wider support needed.
"This additional screening will not delay other women attending their routine appointments.
"I have been clear that we must learn from this and act to minimise the risk of similar incidents in future."
'Concern and anxiety'
The missed appointments were discovered during a review of the Scottish Breast Screening programme.
The review was carried out in the wake of following separate issues in England. which were said to have potentially led to the deaths of up to 270 women because they did not receive invitations to a final routine breast cancer screening appointment.
Janice Preston, head of services for Macmillan Cancer Support in Scotland, said: "This will undoubtedly create a great deal of concern and anxiety for the women affected.
"The absolute priority must be for women who have missed their final screening appointment to immediately get support and if appropriate treatment."
The Scottish Conservatives said the missed appointments were "truly concerning" as the tests were absolutely crucial in identifying and treating cancer at early stages", which improves the chance of a good outcome for the patient.