Clan Buchanan appoints its first chief since 1681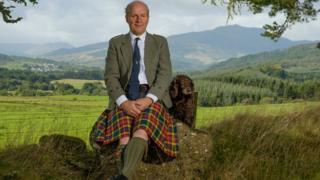 One of Scotland's largest and most ancient clans has appointed its first clan chief in 337 years.
The Clan Buchanan will be led by John Michael Baillie-Hamilton Buchanan, who first made his claim to the title more than 20 years ago.
The chiefship was last held by John Buchanan until his death without a male heir in 1681.
The new chief, whose formal title will be The Buchanan, said he was "honoured and proud" to take up the role.
The Lord Lyon King of Arms, who is head of the Lyon Court which regulates Scottish heraldry, formally upheld a petition for Mr Buchanan to assume the chiefship.
It follows decades of research conducted by renowned genealogist Hugh Peskett, who traced former US President Ronald Reagan's Irish ancestry in the 1980s.
Mr Buchanan, who is the manager of Cambusmore Estate in Callander, Stirlingshire, said it had been "a long journey" to prove his family's lineage.
He said: "There has not been a chief for a very long time - over 337 years - but there is a thriving community of Buchanan clansmen, clanswomen and septs around the world.
"I look forward to meeting members of the clan, committing myself to clan matters in Scotland and attending some of the popular clan functions that take place overseas."
'Enduring tenacity'
He added: "My family has been acknowledged as leaders of one of the principal clan septs, the Buchanans of Leny and Arnprior, for many years but we have also believed that we had a good case for the overall chiefship.
"We first approached the Lyon Court informally over 20 years ago and it has taken decades of genealogical research to back up our claim.
"I am indebted to Hugh Peskett, my fellow Buchanan clansman, for his meticulous research and enduring tenacity."
George Lauder McAusland, commissioner for Scotland and the UK of the Clan Buchanan International Society, congratulated Mr Buchanan on his appointment.
He said: "Clan Buchanan has members worldwide and having a chief for the first time in over 300 years will be an exciting time and a great opportunity to promote our great clan to even greater heights."
The Clan Buchanan, whose historic seat was the now-ruined Buchanan Auld House in Stirlingshire, can be traced back to 1010 in Scotland.
It has several million members in countries including the UK, the United States of America, Canada, Australia, New Zealand, South Africa and Jamaica.