One in three lawyers attacked or threatened, suggests survey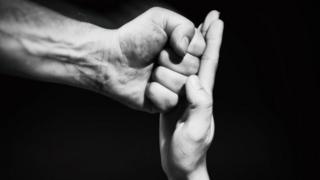 One in three Scottish solicitors say they have been victims of violence or threatening behaviour in connection with their work.
Law Society of Scotland research revealed almost all of the incidents took place within solicitors' offices or in a court or tribunal building.
The survey, the first of its kind in Scotland, suggested 12% of solicitors who responded had experienced violence.
About 60% reported threatening conduct or communications.
The survey heard from more than 1,100 solicitors.
It found that clients or former clients - or clients of the opposing party's solicitor - accounted for 60% of incidents.
Criminal defence lawyers were most at risk, but those dealing with sensitive cases such as divorce or child custody had also been targeted.
In July, a 63-year-old solicitor was left scarred for life after he was attacked with a knife as he walked to his office near Glasgow Sheriff Court.
It is one of the most serious examples of what many lawyers say they face regularly.
The survey responses showed that:
Almost 40% of criminal defence solicitors, 25% of family lawyers and 19% of prosecutors have been victims of violence
About 70% of criminal defence solicitors, 54% of family lawyers and 61% of prosecutors have been victims of threatening behaviour.
Alison Atack, president of the Law Society of Scotland, said she was "extremely alarmed" by the survey findings and that there should be "no tolerance of any threat of violence towards legal professionals".
She said: "People often turn to their solicitor for help and advice when they are going through very stressful and difficult times in their lives.
"It's vital that solicitors, who have chosen a career in law because they want to help others, can feel safe and secure while carrying out their professional duties."
The Law Society has made a series of recommendations aimed at improving the personal safety of solicitors and other legal professionals.
These include:
Improved reporting of incidents to the police
Adopting a safety-first approach, such as using smartphone safety apps, personal alarms or a buddy system, particularly for sole practitioners
Adoption of robust policies and procedures by employers to deal with violent or threatening behaviour
Specialist training on risk awareness
Providing support for solicitors who are victims of violence.
The survey also found that reporting of incidents was low, with women appearing to be less likely than men to make a report.
About 20% of violent incidents were reported to the police while just 12.5% of incidents of threatening behaviour and 14.5% of threatening communications were reported.