What are P1 assessments really like?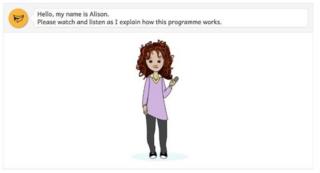 Standardised assessments for P1 pupils are at the centre of a political row in Scotland, with opposition parties pressing a vote on whether they should be axed. But what are they actually like?
The nation-wide tests were introduced last year, with ministers saying they provide important data about pupil performance and help teachers identify areas where pupils might need help early in their education.
Opposition parties have voiced a range of concerns about the assessments, citing campaigns by parents' and teaching groups, and it is expected they will pass a motion calling for them to be scrapped on Wednesday.
The government put on demonstrations of the tests for MSPs and media ahead of the parliamentary debate.
More basic questions have pupils simply identify a word, compared with other symbols
The assessments are entirely computer-based, and can be done on a laptop, tablet or desktop computer.
They are introduced by a cartoon character named Alison, who guides pupils through the test. Depending on the school, they could also have a teacher or a P7 "buddy" on hand to help too.
The introduction takes pupils step-by-step through how to play audio recordings of the questions and answers - so they can listen instead of read - how to drag icons around the screen and how to navigate on to the next question.
Many of the questions are multiple-choice
Then the questions begin, initially at a very basic level. Pupils click or tap on the screen to choose an answer, or in some cases drag an icon into a box.
The pupil is given no indication whether they have chosen the right answer or not.
However, the test adapts itself based on how well they are doing, selecting easier questions if the pupils struggling, or more difficult ones if they are performing well.
Some slightly more difficult questions see pupils analyse short sentences
Questions in the literacy assessments range from simple tasks like distinguishing words from other symbols, to recognising rhyming words and analysing short sentences.
Pupils can also be given a short "book" of three pages to read (or listen to), before answering questions about its content.
Some numeracy questions involve basic addition and subtraction as well as on-screen counting
There are separate literacy and numeracy assessments.
The numeracy questions range from simple tasks counting on-screen items, to working with time and money, addition and subtraction.
Some tests involve telling the time on digital and analogue clocks
At the end of the assessments - the government says the literacy and numeracy tests combined should take under an hour - their teacher is immediately given a detailed report on how they performed.
A report on how each pupil performed is immediately generated
This charts the child's performance within their class and against others across the country, which education bosses say gives their teacher important diagnostic information about the child's position and progress.
However they stress that this does not create national "league tables" of schools, with school-by-school data held at local authority level rather than by the central government.
The sample pupil in this report has scored above the average of her class and school, and is at the top level nationally