'Work needed' to cut women prison numbers in Scotland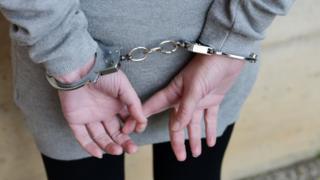 Planning permission has been granted for the first of five small community jails proposed across Scotland to house female prisoners.
The 24-place unit in Maryhill in Glasgow should open in two years' time.
It has been designed as part of a strategy to reduce the number of women in custody.
But it comes as a report from the prisons watchdog highlighted concerns that the female prison population was not getting significantly smaller.
Six years ago former Lord Advocate Elish Angiolini published a report urging a reduction in the number of women behind bars.
She called for the country's only women's prison at Corton Vale in Stirling to be demolished and replaced with a smaller national jail and a number of regional units.
At that time there were more than 400 women in jail. The current figure is roughly the same.
According to the Scottish Prison service, last Friday there were:
102 women in HMP Edinburgh
54 women in HMP Greenock
99 women in HMP and YOI Polmont
99 still in Cornton Vale
47 in HMP Grampian
More than half of these women are in accommodation designed for men.
In his final annual report, HM Chief Inspector of Prisons for Scotland (HMIPS) David Strang called for more action to reduce the number of women in custody.
The numbers suggest courts continue to send women to prison rather than using alternatives.
Mr Strang said: "Given that the new configuration of the female custodial estate will provide only 230 places, much work is still required to reduce the numbers in custody, ahead of the new prison opening in 2020."
The aim is to have a total of 250 places for woman prisoners in Scotland - with 20 of these for women sent straight to custody while they await trial:
80 in the new national unit being built on the Cornton Vale site
100 in five community units around the country
50 at HMP Grampian
20 places in an assessment unit at Corton Vale
The new unit, on the former Maryhill Health Centre site, will house up to 24 prisoners from jails around Scotland. They will see out their sentences in four two-storey houses.
They will be heavily vetted and could be allowed to visit shops and medical facilities, as well as accessing work in Maryhill and the surrounding areas.
The plans have been criticised by elected representatives and members of the community who believe the unit will be bad for the area.
Planning committee member Jaqueline McLaren said: "This is one of the most deprived areas in this city and we're adding to that by putting this prison in this area."
But Tom Fox, from the Scottish Prison Service, said: "This will help transform the lives of many women from Glasgow and the west of Scotland. They will not go directly from court, they will be assessed before they go there.
"No more than a third of the women will be accessing the community at any one time. It's not going to be a case of getting up in the morning and going down to the shops.
"The women will be licensed to go out and they'll have a time to return. They might go out for a medical appointment or work in a charity shop, but they will always have a purpose."
He added: "Women in custody must learn to look after themselves and we want to create an environment where women build the confidence to live independently."
There will be four similar units across Scotland by 2024, housing about 100 women, with the next to be created in Dundee.
Psychoactive drugs
Mr Strang, who has stepped down after five years in the job, also used his annual report to highlight the growing problem of psychoactive drugs use in Scotland's prisons.
He said: "One growing concern relates to the reported increase in the use of NPS (Novel Psychoactive Substances).
"Prisoners and staff told us that they were anxious about the unpredictable behaviour which the use of NPS has led to, creating heightened concerns about personal safety and well-being.
"This is not an emerging issue solely within the prisons we inspected this year; it is one that is becoming more evident in a number of Scottish prisons."
He said the prison service should consider carrying out more research into the impact of NPS.
A spokesman for the Scottish Prison Service said: "It is an emerging problem and we are conscious of it.
"Many of these substances are readily available in the community and in many cases are cheaper than traditional drugs. We are not unprepared and we have been offering training for staff on what to look out for."
In his report, Mr Strang concluded that, overall, Scotland had "much to be proud of in how our prisons are run".
He added: "Across the prisons we have inspected this year, prisoners have generally told me that they feel safe.
"One of the key factors affecting the atmosphere in a prison is the quality of relationships between prisoners and those who work in prison.
"Throughout the year I continued to be impressed with the commitment of staff and their ability to care for and protect prisoners, a substantial proportion of whom are vulnerable."