Medical research concern over Brexit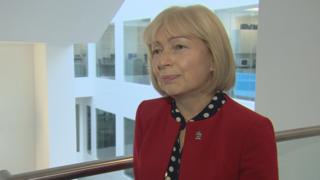 Scotland is at risk of losing its capacity to lead and shape major medical research projects after Brexit, a senior academic has said.
Prof Dame Anna Dominiczak, head of Glasgow University medical school, said Scotland's world-class reputation could suffer with pioneering science lost.
The UK government said it was looking at measures to support research in the short-term.
It said it would be developing a new international strategy.
The EU's biggest research fund, called Horizon 2020, has given out more than 30 billion euros in research and innovation grants since 2014, of which more than £500m has been invested in Scotland.
British researchers are still eligible to apply for and use grants from Horizon 2020, until the Brexit date of 29 March 2019.
However, with no deal currently in place beyond that date, there is uncertainty about whether UK projects will be able to remain part of the programme.
And there is even less certainty about how the UK can play a role in the next generation European research framework.
Outperformed Germany
The impact on Scotland could be felt more strongly than elsewhere because researchers here have been so successful at securing a share of that cash in the past.
Per head of population, Scotland has won more Horizon 2020 funding than the UK as a whole.
It has also outperformed Germany, which has won the biggest overall share of the programme's investment.
Prof Dominiczak said the UK had always brought in more money than it had paid to the EU funds but it was about more than that.
"It's the people, it's the connectivity, and it's the ability to address major questions using large numbers of patients, and I think many of my colleagues are truly worried that we might lose this," she said.
She said it would not be easy to replace these kinds of networks after Brexit.
"Pan-world collaborations would be wonderful but this will take many years to formulate," Prof Dominiczak said.
"To do joint research you need trust, you need a lot of funding, distances are a problem, and cultural background and it has been so easy to form these winning large networks, which especially Horizon 2020 has been so good at. There is a lot to lose."
Since 2016, there has been a slight decrease in the rate of new UK participations in Horizon 2020 projects.
Earlier this year, MSPs on Holyrood's health committee heard evidence of an increasing reluctance by EU collaborators to allow the UK to lead, or even take part in EU projects.
Prof Dominiczak believes that is because of the political uncertainty.
The Association of Medical Research Charities has also claimed that concerns over the UK's future migration system were damaging its reputation and attractiveness as a place to do research.
Prof Dominiczak said: "The biggest worry is the human factor.
"Ireland sees Brexit as an opportunity to poach our best talent.
"It goes from junior researchers to senior professors and we don't want to lose any of them."
A UK government spokesman said: "Through the UK government's underwrite guarantee and recent extension, we have committed to cover funding for successful UK bids to Horizon 2020 until the end of the programme, offering reassurance to our research community."
Looking beyond 2020, the UK said it remained committed to ongoing collaboration in research and innovation and wanted to work with the EU on a "mutually beneficial outcome".  
The government set out its plan for the future relationship between the UK and the EU in its White Paper, which includes the proposal to form a cooperative accord with the EU on science and innovation.
The government also said it was committed to increase UK research and development spending to 2.4% of GDP by 2027.