Animated film recalls 'Soldier Bear' Wojtek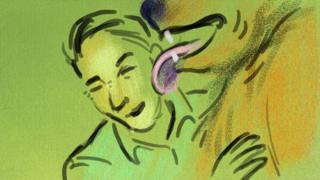 An animated film is in development about "Soldier Bear" Wojtek, who is remembered by a statue in Edinburgh's Princes Street Gardens.
The bear was adopted in World War Two by Polish troops and helped them carry ammunition at the Battle of Monte Cassino.
After the war he lived in Scotland at Hutton in Berwickshire, before ending his days in Edinburgh Zoo.
Edinburgh-based film-maker Iain Gardner is making the film.
A Bear Named Wojtek is being produced by Iain Harvey of the classic Christmas animated film, The Snowman.
The film's story has been written by award-winning Polish writer Wojciech Lepianka.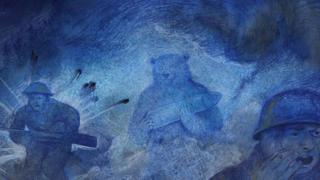 Support for the project, which has pitched a teaser trailer to the Cartoon Forum, has come from the Polish Film Institute and Creative Scotland
Mr Gardner has spent several years working on his animation.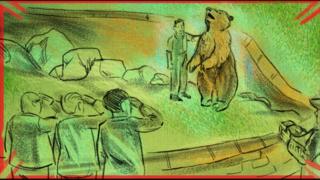 His research has brought him in contact with Krystyna Ivell, who the animator said had shared the same fate of many Polish people during WW2, which was why the story of Wojtek fascinates her.
Mr Gardner's studio, Animation Garden, is based in Edinburgh's Summerhall, which was formerly a vets school where Wojtek's remains were taken following his death.
'Something magic'
The film-maker is in the process of finding a broadcaster to invest in the film.
Mr Harvey described the story of Wojtek as "something magic can be true".
He added: "I did not believe Iain (Gardner) at first. Then seeing the images and video clips of Wojtek I had to be a part of this project."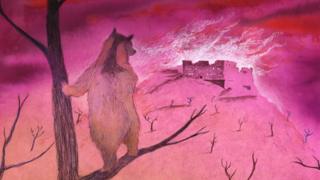 Wojtek was rescued as a cub in the Middle East in 1943.
As he grew, the Polish soldiers who adopted him trained the bear to carry heavy mortar rounds.
When their forces were deployed to Europe the only way to take the bear with them was to "enlist" him.
So he was given a name, rank and number and took part in the Italian campaign.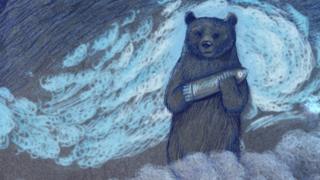 At the end of the war the bear was billeted at an army camp in the Scottish Borders.
When the Polish soldiers were demobilised he was taken to Edinburgh Zoo where he eventually died in 1963.
All images copyright of Iain Gardner/Animation Garden.