Many bird of prey killings in Scotland are 'unreported'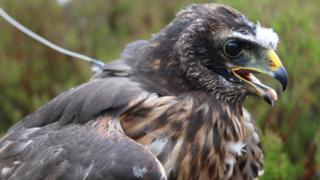 More birds of prey are being killed in Scotland than official records report, according to a wildlife group.
The UK-wide Birdcrime 2017 study shows five incidents of illegal raptor persecution in Scotland last year.
Landowners and sporting estates said illegal killings were at a record low and grouse moor licensing was "not needed".
But RSPB Scotland said the disappearance of satellite-tagged birds of prey pointed to a higher death toll.
The five reported killings were the shootings of a hen harrier and short-eared owl on a grouse moor in Leadhills, South Lanarkshire, in May 2017. Two nest destructions and one other incident were also recorded.
The report also shows there were just four prosecutions relating to raptor crime concluded in 2017, of which only one lead to a conviction.
That was the illegal shooting of a buzzard that took place in Inverness-shire the year before.
'Highly suspicious'
Other apparent cases of illegal activity have been discontinued by the Crown Office despite video evidence, according to RSPB Scotland.
"Unreported" incidents include two tagged golden eagles which vanished last year without trace.
With no remains found, they are not included in the report.
Another bird, a young female hen harrier called Calluna, disappeared in a grouse moor area on 12 August last year - the start of the grouse shooting season.
The charity said the cases are "highly suspicious" and suggested birds are being deliberately killed and disposed of and the tags destroyed.
They point to the fact the highly-reliable tags stop transmitting when the bird "disappears" when they are designed to work after a bird's death.
Ian Thomson, RSPB Scotland's head of investigations, said: "Recent population surveys have continued to show the impact that persecution is having on Scotland's birds of prey is considerable, even though only a small proportion of incidents are being detected.
"As an example of this only a few raptors are satellite-tagged each year but the fact that so many of them 'disappear' almost exclusively in areas managed for grouse shooting, never to be found or heard from again, suggests not only have they come to harm, but that a significant number of those birds which aren't tagged are also being illegally killed.
"It's clear that those perpetrating these crimes have become more adept at covering their tracks, making it harder to uncover these incidents, and that there needs to be more accountability and regulation of the driven grouse industry if the future of birds of prey in Scotland is to be secure."
His colleague Duncan Orr-Ewing, head of species and land management, called for driven grouse moors to be licensed with sanctions for license removal if illegal activity is discovered.
Susan Davies, director of conservation at Scottish Wildlife Trust, said: "The RSPB's latest report demonstrates that the illegal persecution of our wildlife continues.
"Every single one of these incidents damages Scotland's international reputation as a nation that puts a high value on its natural environment."
David Johnstone, chairman of Scottish Land and Estates, the body which represents landowners and sporting estates, said raptor persecution is "totally unacceptable".
But he said recent reports showed "illegal persecution of raptors is now at an all-time low".
He said further legislation, such as grouse moor licensing, as demanded by RSPB, "would be a sledgehammer to crack a nut and would place yet another bureaucratic burden" on the sector.
He said "some satellite-tagged birds may have been persecuted in the past" but the tags can malfunction.
Mr Johnstone called for live tagging data to be made freely available on a web page for all the public to view.
Meanwhile, RSPB Scotland has launched a new interactive map to highlight what it says are persecution hotspots around the UK.