More than 400 revenge porn crimes reported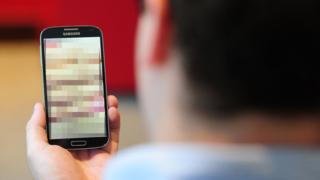 Police have received more than 400 reports of "revenge porn" crimes since a new law was introduced in Scotland.
The Abusive Behaviour and Sexual Harm Act makes it easier to prosecute people who share, or threaten to share, intimate images without consent.
The latest crime figures show 421 cases have been reported to police since the law came into force in July 2017.
The figures also showed a small rise in the total number of offences recorded by the police over the past year.
It is the first time in 12 years that recorded crime has increased in Scotland.
There were 244,504 crimes recorded by the police in 2017/18, which was 1% higher than the previous year - when the lowest number of crimes were reported since 1974.
Crime in Scotland has been been on a downward trend since reaching a peak in 1991, when there were 572,921 reported offences.
The latest figures showed that:
Sexual crimes increased by 13% from 11,092 to 12,487 - which included the 421 revenge porn cases
Non-sexual crimes of violence increased by 1% from 7,164 to 7,251
Crimes of dishonesty increased by 1% from 113,205 to 114,474
Offences such as fire-raising and vandalism decreased by 2% from 52,514 to 51,322
Other crimes recorded by the police remained at similar levels to the previous year
The statistics also showed that the police clear-up rate for all recorded crime was 49.1% - slightly lower than the 50% the previous year.
Separate research published on Tuesday showed that the number of muggings on Scotland's streets has more than halved over the past decade.
Justice Secretary Humza Yousaf said the figures showed that "Scotland's streets are now safer and less violent than they were a decade ago".
He added: "Our approach to tacking violence in our communities is now held up as a model for the rest of the world, with London introducing a Violence Reduction Unit based on the success of the Scottish public health approach."
But Scottish Labour claimed that the rise in recorded crime showed that "SNP cuts to local policing are misguided and also that a failure to invest in the economy, create jobs and boost living standards was seeing more people turn to criminal activity."
And the Scottish Conservatives said the government's "soft-touch culture has given criminals less reason to fear the justice system."