Refurbishment plans for Scottish National Gallery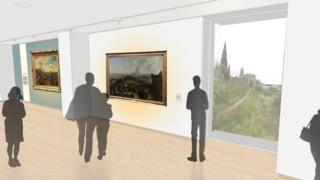 Plans have been unveiled to transform the Scottish National Gallery in Edinburgh with new exhibition spaces.
The £22m building project will offer improved accessibility with direct access from the adjoining Princes Street Gardens.
New displays will include work of early 20th century artists such as Charles Rennie Mackintosh.
For the first time in a generation, displays will be drawn from the Scottish and international collections.
The project will also create a larger shop, brand new cafe, more accessible restaurant and extensive new landscaping in the surrounding gardens.
On completion, the gallery plans to increase the number of volunteers on hand to assist visitors and offer a dedicated family day one day each week.
Construction work on the gallery, which stands in the heart of Edinburgh's World Heritage site, will begin in October and last for two years.
The gallery will remain open as usual with free admission and disruption kept to a minimum.
The project is being supported by The National Lottery and Scottish government.
Fiona Hyslop, Cabinet Secretary for Culture, Tourism and External Affairs, said: "This exciting project will further enhance our nation's profile and raise the international profile of our world-class galleries, ensuring that visitors in Scotland and from all over the world can enjoy our arts and cultural heritage."
Sir John Leighton, director-general of the National Galleries of Scotland, said: "We will create the perfect showcase for the nation's extraordinary collection of Scottish art, giving it room to breathe and showing it off with real pride to the world.
"This ambitious project will completely transform the experience of our visitors, creating a National Gallery that is even more open, engaging and inviting with new presentations of Scotland's art in a setting that will be truly world-class.
The new displays will be revealed when the galleries open in early 2021.