Hundreds told of partner's abusive past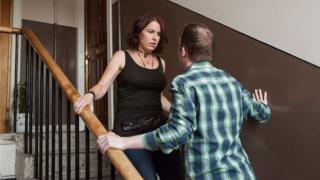 Nearly 1,600 people in Scotland have been told about the abusive past of their partners since the introduction of a new law in 2015.
Police Scotland said that 3,500 people in total had made requests for information under the Disclosure Scheme for Domestic Abuse in Scotland (DSDAS).
It was set up in the wake of Clare's Law in England and Wales.
That scheme was named after Clare Wood, who was murdered by her ex-boyfriend in Salford, Greater Manchester, in 2009.
She had been unaware of George Appleton's history of violence against women.
'Coercive behaviour'
According to the latest figures, applications from individuals using their right to ask about a person's past increased by almost 40% in the past year.
The DSDAS scheme came into effect across the country following successful pilots in Ayrshire and Aberdeen.
Assistant Chief Constable Gillian MacDonald said the scheme provided an "incredibly important opportunity" for people with concerns to seek information from the police to help ensure their own safety.
She added: "However, this scheme is also open to those with concerns about another person's partner - this could be a friend, a family member or a support worker.
"This is crucial as the complexities of controlling and coercive behaviours often mean the people themselves may not recognise the development of abuse or don't feel able or ready to make an application themselves."
She added: "The disclosure scheme is about empowering people who have concerns with the right to ask about the background of their partner."
Ms MacDonald said the force would always proactively investigate domestic abuse and called on those with concerns to use use the service.