SNP conference: Sturgeon focused on politics of the possible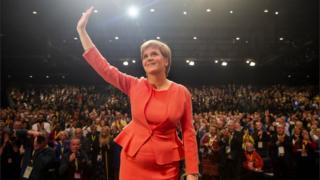 Politics, we are frequently reminded, is the art of the possible. Nicola Sturgeon upgraded that slightly today to offer political change as being driven by pragmatism.
It was no accident, of course, that she opened her remarks by praising Nelson Mandela.
Partly, this was geographical location. She was speaking in Glasgow - which she said was the first city in the world to grant civic freedom to the South African leader.
But, mostly, it was part of a narrative. Mandela, of course, spent 27 years in an island prison before leading his country. His autobiography is entitled the Long Walk to Freedom.
In the subsequent section of her address, she praised Scotland's sporting leaders. (No doubt shortage of time alone prevented her from including Robbie Neilson, to whom welcome and plaudits.)
The attributes she found most impressive in these sporting stars? Perseverance and resilience. (Yep, still United.)
Or, as she added: "Eyes on the prize, no matter how hard the path, at times, might seem."
The prize, for the SNP, is well-known. It is Scottish independence. Every mention of that objective drew huge and sustained applause in the hall.
The loudest and longest applause of all was for her insistence that Scotland would not permit the prime minister to exercise a veto over the timing of any independence referendum.
Such talk thrills the soul of SNP members. But Ms Sturgeon's political message was more nuanced.
It was of patience. That too drew applause. But notably less - understandably from an SNP perspective.
In essence, she was telling her party two things from an SNP point of view.
One, that passion alone is insufficient to achieve their objective. They must operate with a calm, temperate approach. They must be prepared to see the alternative view - to acknowledge and understand those who dislike independence.
Perhaps, although she did not spell this out, with equal and opposite vigour as is displayed by its advocates, here at the Glasgow conference and elsewhere.
Secondly, she was making plain that an independence referendum must be deferred - at least until there is clarity over Brexit and possibly substantially beyond that.
She was addressing an audience who yearn for independence. They want it tonight, if not sooner.
And yet her underlying tone was all about elongation of time scales. That was true of the independence issue. But it also applies to policy announcements.
These ranged from housing to benefits to enabling "fair work" to nursing bursaries.
Long term aims
At sundry points, Ms Sturgeon - quite deliberately and consciously - placed these in a long term context. She talked of long term aims.
Self-evidently, the policy announcements have salience of their own. For the health service, for benefits.
But there was a wider significance. Ms Sturgeon was, firstly, seeking to provide positive news for those who are anxious about Brexit uncertainty or the state of the economy.
Secondly, she was seeking to place policy in the context of that broader aim of independence. This was a revised version of the classic SNP argument that the party can act effectively under devolution but could do so much more under independence.
It is a form of spectrum politics. Suggesting that independence is a natural corollary of existing devolved powers. Naturally, Ms Sturgeon's opponents dissent, strongly.
Then, of course, there is Brexit. Ms Sturgeon confirmed that SNP MPs would vote for a further EU referendum, despite their caveats over such issues as Scotland's Remain verdict being repeated, again without implementation.
But Ms Sturgeon appeared to downplay her own Sunday announcement, noting that it only came into play if a further referendum became feasible - and did not, in her view, answer the core question about Scotland's status.
So the immediate Brexit focus is upon a putative deal with the EU - and the response in the Commons.
We learned - from Ms Sturgeon and from Mike Russell in a live interview with me - that SNP MPs will vote against any deal which does not feature a single market or customs union.
I challenged Mr Russell, repeatedly, over this. Was not the consequence that the SNP might be helping to reject the deal on offer, thus possibly facilitating the very No Deal scenario which they have excoriated?
Holding pattern
He insisted, equally repeatedly, that the SNP would not allow Theresa May to offer a bogus alternative - her way or no way. Ms Sturgeon said the SNP would argue for alternatives, such as extending the Article 50 timetable.
As noted here previously, Ms Sturgeon is not in charge of her own party's destiny. She is in a holding pattern over a fog-bound Brexit airport, unable to determine the outcome of that or the concomitant notion of a further independence referendum.
But she did link the issue of indyref2 to Brexit in a number of ways - notably by suggesting that Scotland could withdraw herself from what she called the "shambles" of Westminster control, as demonstrated in the exit from the EU.
On that, she made one statement which drew enthusiastic applause. Never again, she argued, would the opponents of independence be able to deploy a Project Fear campaign, stressing the downside.
This was, she argued, because Brexit itself had been miserably badly handled. Scotland had been advised to stay in the Union to stay in the EU - and had been betrayed.
That latter argument may well have salience in any future referendum. But it strikes me - and no doubt it strikes the first minister, privately - as a little simplistic, as inevitable conference rhetoric.
Remember that indyref2 will not be proposed at all until Brexit has been clarified - and presumably settled down a little.
Ms Sturgeon defers the demand partly because the uncertainty occasioned by Brexit is inimical to an independence offer which is customarily predicated upon confidence and pride.
Indeed, one scenario talked about here at the Glasgow conference involves holding off on indyref2 until a further, precise mandate for such a ballot has been gained at the next Holyrood elections.
But any delay, driven by circumstance, perhaps means that there would be a renewed focus upon Scotland's economic circumstances. Upon the Scottish deficit. Upon Scotland's fiscal capacity.
Ms Sturgeon has answers to that. The Finance Secretary Derek Mackay offered some more, talking of growth in Scotland driven by a focus upon capital investment.
But those who oppose Scottish investment will not entirely abandon their arguments over the economy because they may be embarrassed over the EU issue.
And, of course, Nicola Sturgeon knows that.