Ambulance staff contact details shared online in data breach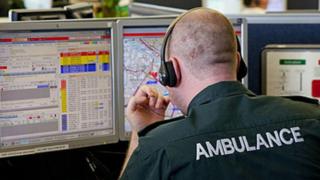 The contact details of Scottish Ambulance staff have been published online in a serious data breach, BBC Scotland has learned.
The Scottish Ambulance Service has confirmed employees work contact details were temporarily shared online, but have now been removed.
It says no patient data was ever at risk.
The Information Commissioner's office says it is aware of an incident and is making inquiries.
The BBC has seen an email sent to staff on Friday evening, revealing the data breach.
The message said: "For a time, the names and telephone numbers of staff, as they appear on our internal directory, were available on a section of our website that could be accessed by the general public.
"We are not aware that this has caused any issues regarding privacy and this matter has now been rectified - the web pages in question have now been removed."
A spokesman for the Scottish Ambulance Service said: "We are investigating an internal issue where the work contact details of members of staff were temporarily made available online.
"These have now been removed. No patient data was ever at risk."
Tommy Campbell, regional officer for Unite, told the BBC: "I am shocked and disappointed that the ambulance service as an employer has breached the contact details of employees.
"I have written to Milne Weir, the regional director and I expect to know what exact details have been breached and who will have access to those.
"We now demand a full investigation and and we expect the ambulance service to communicate with employees on what has been released in the public domain."
'Appropriate safeguards'
A Scottish government spokesman said: "The Scottish government takes data security seriously, and we expect health boards to ensure personal data has the appropriate safeguards.
"This incident is a matter for the Scottish Ambulance Service and we understand that the Information Commissioner is aware.
"We will consider the commissioner's findings in due course."