Atlantic Salmon production reaches record high in Scotland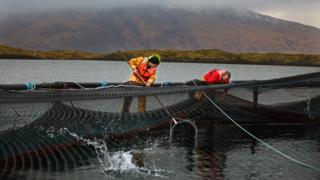 The production of Atlantic salmon in Scottish fish farms rose to a record high last year, according to new figures.
The Scottish Fish Farm Production Survey 2017 was published by Marine Scotland Science.
It said 189,707 tonnes of Atlantic salmon was produced last year, an increase of 16.5% on the previous year.
The report also suggested the value of salmon produced across Scotland had risen above £1bn for the first time.
The figure represented a 37% increase on the previous year.
The report also said:
A total of 291 people were employed in freshwater production, 250 full-time and 41 part-time
Rainbow trout production fell by 6% to 7,637 tonnes
Brown trout/sea trout production increased from 41 tonnes in 2016 to 61 tonnes in 2017.
Rural Economy Secretary Fergus Ewing said: "The fish farm industry forms an integral part of Scotland's rural economy - creating jobs and providing capital in some of our most rural communities.
"So it's very encouraging to see salmon production value on the increase yet again."
Gilpin Bradley, chairman of the Scottish Salmon Producers Organisation, said: "Volumes were strong and exports reached an all-time high with sales of £600m to more than 50 countries worldwide."
He added that farmers had invested more than £60m in efforts to combat the problems caused by sea lice.
Earlier this month, the Scottish Environment Protection Agency said almost one in five salmon farms in Scotland failed to meet statutory environmental standards.
Two parliamentary inquiries are currently looking at the impact of fish farming.