Historian claims Robert the Bruce was born in Essex and not Ayrshire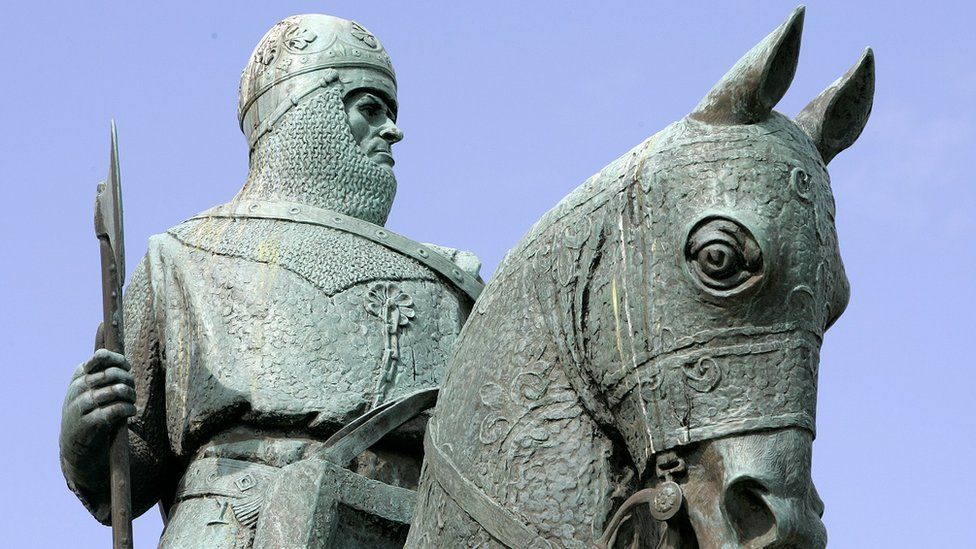 The man who defeated the English at the Battle of Bannockburn was born in Essex - a new historical account claims.
Historian Dr Fiona Watson believes Robert the Bruce was from a village near Chelmsford, called Writtle.
As part of her self-published work, she said there was no evidence that he was born at his mother's castle at Turnberry, in Ayrshire.
Dr Watson outlines a ruthlessly ambitious man who would stop at nothing to become king of Scotland.
In the first of her trilogy, titled "Traitor, Outlaw, King", the former Stirling University academic said that Bruce's family owned land in Essex, and quotes a chronicler from the 14th century saying he belonged to "the English nation".
Dr Watson told BBC Scotland: "There is no direct evidence he was born in Turnberry. More recently, it was presumed Bruce would have been born at Turnberry, but the evidence points to Writtle."
She said it was the custom at the time to send young nobleman to be fostered with other noble families, and thinks he could have been sent to Ireland or the west of Scotland, where some of his opinions may have been formed.
The St Andrews and Glasgow university graduate added: "His heart was clearly in Scotland. He wanted to get his family lands back, which had been lost because Bruce and his father had not pledged fealty [loyalty] to the former king John Balliol.
"He would use anything and everything to win."
Dr Watson also said the killing of John Comyn, Lord of Badenoch, at the hands of Robert the Bruce in 1306, was a political assassination.
"It's like Game of Thrones," she explained.
"He knew John Comyn would stand in his way on the path to the throne of Scotland, and so he took him out."
Robert the Bruce - King of Scots
He was crowned as King of Scots at Scone Palace in 1306, and died at the Manor of Cardross in Dunbartonshire in 1329.
His body is buried at Dunfermline Abbey, but his heart is buried at Melrose Abbey.
The battle on which Scotland's national anthem Flower of Scotland is based, Bannockburn, occurred in 1314. An army under Bruce defeated a far larger army, which was led by Edward II.