Tennent's visitor centre aims to boost 'beer tourism'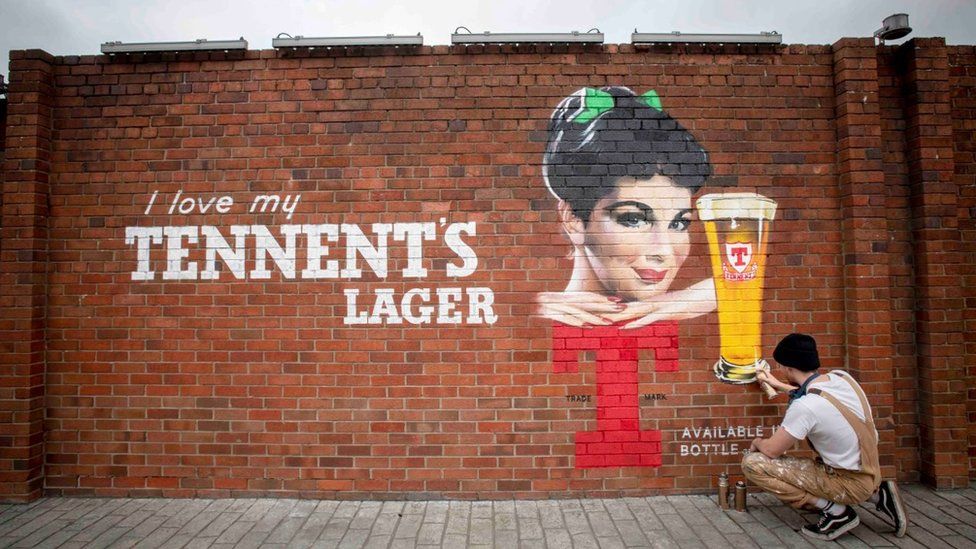 Scottish drinks giant Tennent's is opening a new visitor centre in the east end of Glasgow.
The Tennent's Story experience at Wellpark Brewery will tell the story of the brand's 130-year history.
Brewery bosses are aiming to make the new centre "the UK's biggest beer attraction".
Tourism chiefs also hope the new site, which opens in November, will help Glasgow meet its goal of attracting one million extra visitors a year by 2023.
Tennent's group director, Alan McGarrie said: "Scottish beer appeals to almost a quarter of visitors to Scotland and this investment demonstrates a real commitment to further promoting Scotland's brewing heritage.
"With an ever-growing interest in the provenance story of beer, and a subsequent rise in beer tourism, we want to give locals and visitors to the city a behind-the-scenes look at not just a working brewery, but the history of Scotland's number one beer and the cultural icon that is Tennent's lager."
The Tennent's Story experience will build upon the existing tour and tasting experience at the Wellpark site.
It will tell the story of Hugh Tennent, who started the brand, and his first brew of Tennent's Lager in 1885, which newspapers at the time described as a "madman's dream".
Artefacts from Wellpark's first days of brewing will be on display.
Motion capture animations developed by Glasgow School of Art and others will provide a visualised history tour.
Visitors to Scotland are currently spending about £1bn each year on food and drink.
Tennent's Lager is the latest drinks brand to take advantage of the growing trend for "alcohol tourism", which has worked well for Scotch whisky.
With 122 operating malt distilleries across Scotland, £60.9m was spent at whisky visitor centres in 2017.
Jim Clarkson, of tourism body VisitScotland, said: "Visitors love the Tennent's brand for the same warmth of personality that they love Glasgow itself.
"It's a great fit for the tourism experience in the city, and I'm delighted at this investment which will contribute to Glasgow's ambitions for an additional one million visitors by 2023."
David McDonald, depute leader of Glasgow City Council, said the story of Tennent's Lager was "almost as old as the city itself".
He said: "Tennent's investment in this exciting new attraction strongly reflects our ambition and will undoubtedly boost Glasgow's tourism economic in the coming years."
1556 - Men from the Tennent family begin working as brewers near the Wellpark site
1884 - Hugh Tennent plans a new lager brewery at Wellpark
1885 - First mass production of Tennent's Lager
1962 - "Lager Lovelies" (pictures of female models) appear on the front of cans (until 1991)
1989 - Tennent's partners with the Scottish Cup (until 2007)
1994 - Tennent's becomes founding partner of Scotland's biggest music festival, T in the Park.
Related Internet Links
The BBC is not responsible for the content of external sites.