Witches in the age of the Me Too movement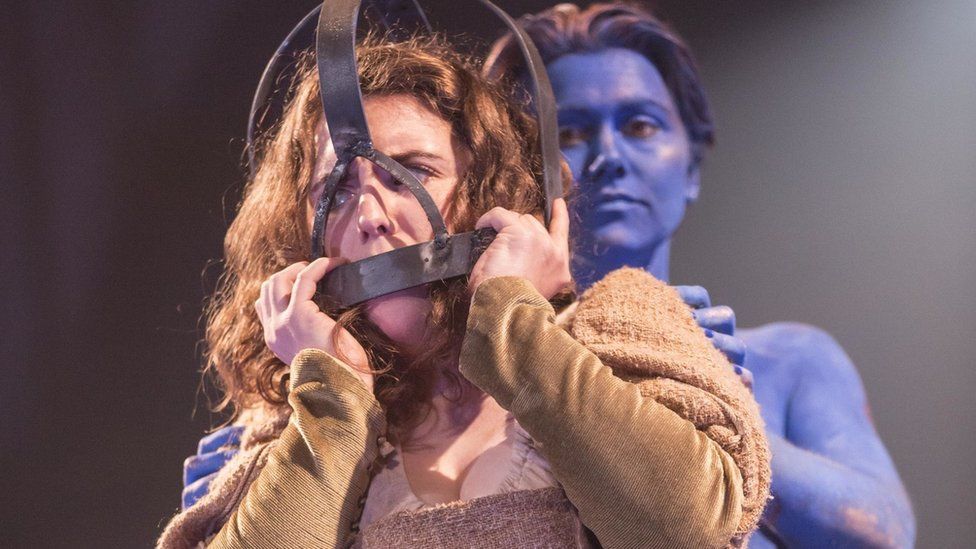 Halloween may now be a fun night for witches and other spooky favourites but Scotland has some very real history in this area too.
In earlier centuries, thousands of people, predominantly women, were tried as witches and many were executed.
Writer Rachel Jury says: "The witch is a really powerful image even today."
Ms Jury is the director, producer and writer of the show Seraphina, which is inspired by a Paisley witch trial at the end of the 17th Century.
It came about when an 11-year-old girl, the daughter of the Laird of Bargarran, accused a number of people of tormenting her.
And as the months went on, she is said to have flown in the air, coughed up bits of hair, coal and other materials.
It was decided witchcraft was involved, and the people she accused went to trial.
Ms Jury's show moves from pre-history to more modern times exploring women's stories.
She says the "Me Too" movement, which has sought to expose sexual harassment suffered by women, has made the witch feel very relevant.
"One of the key things about the witch trials is shaming women," Ms Jury says.
"For me the witch trials are still really prevalent.
"As soon as a woman transgresses and is disliked in some way - they are a witch."
The real life story of the witchcraft trial in Paisley is well-known in the town.
Four women and three men were found guilty. Most were executed.
"One way that you establish who we are, is by saying who we're not - we're not the witches," says Hugh McLachlan, emeritus professor at Glasgow Caledonian University.
"One account of witchcraft accusation is that when people felt threatened then people outside the boundary, physically, spiritually, mentally would be pointed at and persecuted."
Witch-hunting was a Europe-wide phenomenon in the 17th Century.
More than 3,800 people - mostly women - were accused of witchcraft in Scotland, with the numbers executed about five times the European average.
Liz Adamson of Edinburgh College of Art put together a project which focused on the individuals involved in one particular year of witchcraft trials in East Lothian in 1661.
"You start to think, this is a mother, a daughter, a wife," she says.
"My major concern is that atrocities of the kind that happened 400 years ago could still take place today. We have a fear of the other."
She has also spent time in the small town of Vardo in Norway where a set of buildings in a landscape "carved by wind and ice" memorialise the town's witch trials and the people killed.
Only much smaller memorials exist here in Scotland.
"We should think about why Norway wants to acknowledge why it persecuted people," says Ms Adamson.
"I think it is to do with realising what we can be like, to warn us and to maybe make us think of our better selves so that things like that don't happen again."