Breastfeeding rate in Scotland increases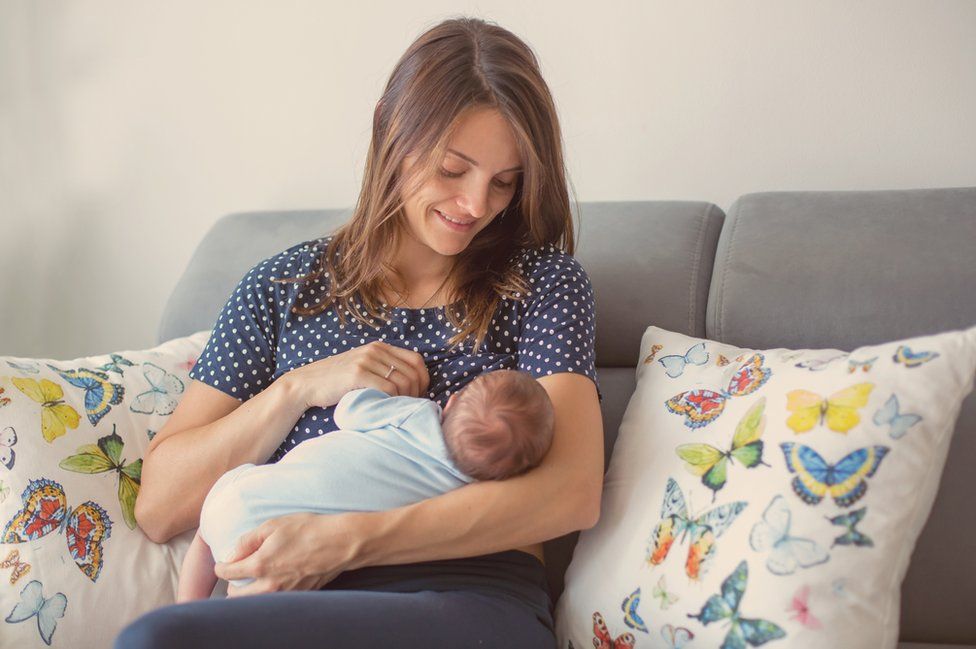 The number of babies being breastfed at 6 to 8 weeks in Scotland has increased from 36% in 2001/02 to 42% in 2017/18.
However, figures show breastfeeding rates in Scotland still fall far short of recommended levels.
The Scottish government is investing an additional £2m for breastfeeding support, almost doubling funding.
The statistics from Infant Feeding Statistics Scotland revealed that 64% of of babies born in Scotland in 2017/18 were "ever" breastfed - breastfed for any length of time after their birth.
More than half (51%) of babies were breastfed at First Visit (10-14 days) in 2017/18. This has increased from 44% of babies born in 2001/02.
Public Health Minister Joe FitzPatrick described the findings as "encouraging".
"These statistics show that 42% of babies born in 2017/18 were being breastfed at their six to eight week review, of which 31% were being exclusively breastfed, " he said.
"This represents the highest percentage of babies being exclusively breastfed at six to eight weeks since recording began.
"We are continuing to support women to breastfeed as the normal nutrition for babies and we recently announced the provision of additional funding of more than £2m for breastfeeding support. This will enable NHS Boards and third sector partners to improve the quality of support and experiences of mothers."
The findings also show that the proportion of babies ever breastfed in Scotland has been "consistently and substantially lower" than that in England.
Breastfeeding rates in Scotland remain low compared with other countries, and fall far short of recommended levels.
The recommendation states that: "In recognition of the important health benefits of breastfeeding, the World Health Organisation and Scottish Government recommend that children are exclusively breastfed (that is they receive no fluids or food apart from breast milk) for the first 6 months of life then, after the introduction of solid foods, children continue to be breastfed up to their second birthday or for as long as the mother and baby wish."
Scottish Liberal Democrat health spokesperson Alex Cole-Hamilton MSP said it was "disheartening" to see rates of breastfeeding "plateau below the levels we'd like to see".
"We know that midwives and NHS staff do what they can to inform new mothers about the benefits of breastfeeding," he added.
"But more needs to be done given the majority of young mothers are not breastfeeding and huge disparities based on levels deprivation persist."
He called for more action to address health inequality and increase the pace of change "for the next generation".
Breastfeeding is much more common among older mothers, and those from less deprived areas of Scotland.
Breastfeeding rates are generally higher in the East and North of Scotland, and lower in the West and South.
White Scottish babies are less likely to be breastfed than babies from any other ethnic group.
Current guidance recommends that babies should receive just breast milk for the first six months of life.
Source: Infant Feeding Statistics Scotland 2017/18
Dr Rachael Wood, consultant in public health medicine for the NHS Information Services Division said: "The figures released by ISD today show that breastfeeding in Scotland is increasing.
"Having said that, there is still a lot of scope for improvement in Scotland's breastfeeding rates to ensure that as many babies as possible receive the substantial health benefits of prolonged breastfeeding."
There is strong evidence to suggest that breastfeeding reduces children's risk of infections, as well as providing benefits for the health of mothers.
The benefits of breastfeeding for both baby and mother are seen across the world, including in high income countries like Scotland.