Teachers' pay offer letter 'misleading'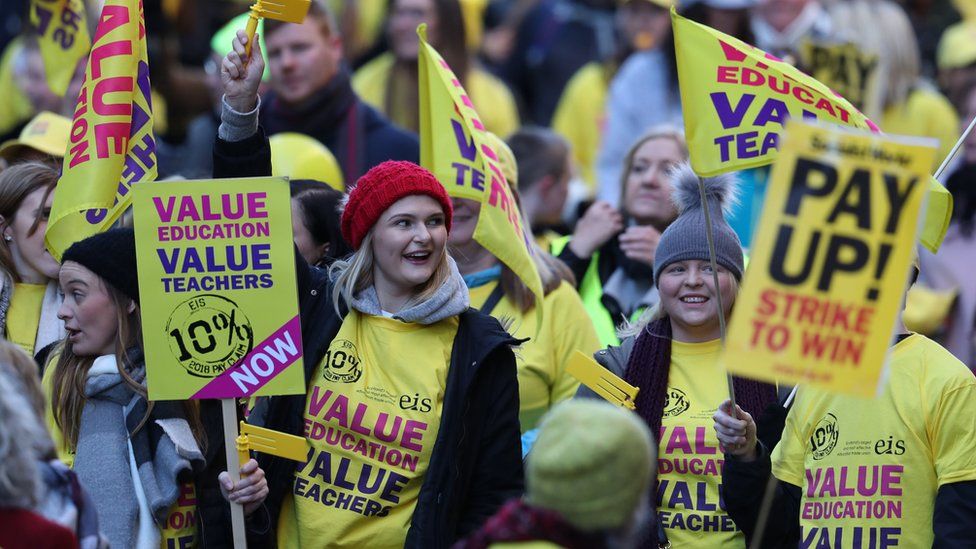 A letter sent to teachers explaining their pay offer has been condemned by Scotland's largest teaching union.
The EIS described the communication from the Scottish government and council body Cosla as "misleading" and "duplicitous".
But ministers insist that the letter accurately explains its offer.
Members of the EIS are currently being balloted on whether to accept the government's pay offer, which is worth at least 3%.
The government and councils insist that most teachers would actually get a 5% pay increase.
They have written to teachers about the offer but the EIS claims the way some figures have been presented is misleading.
Its general secretary Larry Flanagan said he was also concerned that the government was interfering in its ballot.
He said: "While the basic figures included in the letter are accurate, they have been laid out in a way that is profoundly misleading.
"The table indicating salary rises for teachers on the main grade scale creates a false impression of the proposed new salaries for teachers."
He added: "The Scottish government and Cosla have let themselves down in seeking to interfere in the EIS ballot in this manner.
"It is against the spirit of the Fair Work Convention, which both claim to champion, and adds nothing to the factual information which the EIS has already communicated in full to its members."
Last weekend up to 30,000 people took part in a rally backing calls from the teachers' union for a 10% pay rise.
A spokesman for the Scottish government said its joint letter with Cosla "accurately explains" the offer so teachers have a "full understanding of the proposals".
"The letter in no way undermines the democratic role of the teaching unions in this process nor changes our joint commitment to continue discussions with teaching unions in good faith," he added.