Abuse 'normalised' at Quarriers children's home, inquiry hears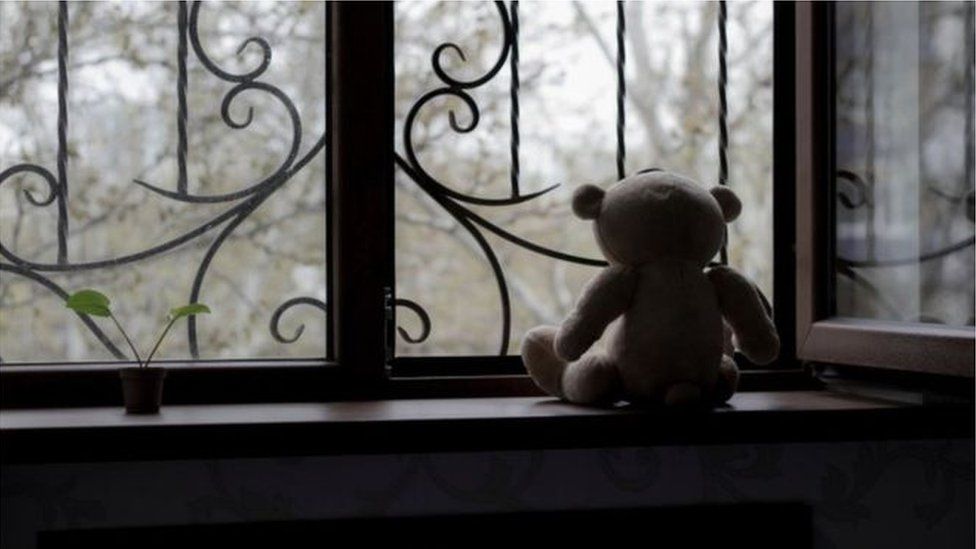 A man who was sexually abused at a children's home in the 1970s has said some of its staff ran it like a military institution where physical abuse was normalised.
David Whelan gave evidence to the Scottish Child Abuse Inquiry about Quarriers Village in Bridge of Weir.
Another resident, Stephen Findleton, has told BBC Scotland the memories of his time there "never go away".
Quarriers has apologised to residents who were abused while in its care.
The inquiry heard, Mr Whelan, who has waived his right to anonymity, was sent to Quarriers in 1969, aged 11, and remained there until he was 16.
Now in his early 60s, he struggled to control his emotions as he described his early years at the home.
He said they were regimented, like something from a military institution, where physical abuse was normalised.
Punishments included beatings with a belt and baton, being locked in a shed and being told he was unwanted by his parents.
Residents were also subjected to hair-pulling and being made to stand outside in a shed, sometimes until dawn.
Mr Whelan also told the inquiry he suspected the home may have been linked to a paedophile ring.
He said: "I believe I was being groomed to be passed on.
"At the time, you try and understand what was going on here, try to read what's going on here.
"I'm as clear as daylight - I was going to be passed on.
"I just wonder if there was a paedophile ring operating out of Quarriers, with some former residents."
Mr Whelan also spoke of strict rules and carers who would lash out with violence, often leaving him "petrified".
He said: "This was supposed to be a care home. From start to finish it was like being in a military establishment.
"They used derogatory language just to demean you, to belittle you.
"We weren't soldiers - we were children.
"There was no affection. It was like from a Victorian era, where the child was seen and not heard."
The witness described physical abuse as being "normalised" and went unchallenged by those in higher authority at the orphanage.
He added: "Bruises heal, but what happens with the psychological stuff is it stays with you.
"It was beyond the bounds of what was reasonable.
"It was brutality and cruelty."
A former member of staff was later convicted of lewd, indecent and libidinous behaviour towards Mr Whelan at Quarriers.
Opened in 1878, Quarriers was a network of Victorian villas, called "cottages", run by members of staff referred to as "house mothers".
Another former resident, Mr Findleton, has also waived his right to anonymity and spoke to BBC Scotland after giving evidence to the inquiry on Thursday.
He went in to care in 1965, aged seven, and spent six years at Quarriers.
The 61-year-old grandfather, who lives in Stranraer, said: "At night time, if you spoke in your beds, you were brought down to the bottom of the cottage by the house mother.
"You were given a smack and you would be crying with the pain and then she would take you down to the back of the cottage and lock you in a dark room for an hour and you would be crying because you were scared of the dark as well.
"I would plead with her 'please let me go, please mummy' and she wouldn't listen to me."
'Abuse across generations'
Mr Findleton said he witnessed other children being abused.
He added: "Memories of Quarriers are in my head every day. It never goes away."
Seven former members of staff at the Quarriers home have been convicted of offences against 23 former residents.
In a statement read out at the beginning of the latest phase of child abuse inquiry Quarriers said it acknowledged that children "were subjected to physical, sexual and emotional abuse" whilst in its care.
It said: "It is acknowledged that abuse occurred across generations at Quarriers Village.
"Quarriers acknowledges that there were shortcomings in its historical policies and practices which did not prevent abuse from occurring."
The inquiry before Lady Smith continues.